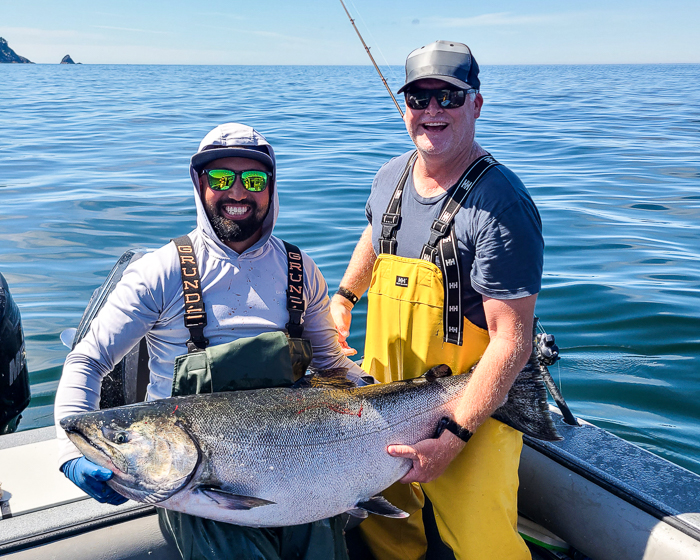 FISH
All Things King of Kings
Have you ever dreamed of being awarded "King of the Day!"  Your dreams could come true. Our King of King Salmon tournament is the largest ocean sportfishing tournament for king salmon with daily, weekly and season-end awards ranging from:
Recognition and a Waterfall cap with a badge
Entry into the season-end drawing for a Ford F-150 truck
Opportunities to win King of the week, of the month and of the season, each with great rewards including return trips and, for the largest of the season, $10,000!
It's all just a month away, with the resort opening in early June. The excitement is building with June Chinook limits for non-residents at 3 annual (1 per day) and July 1-15 at 2.  Every day, someone wins.
What size king wins the season? Here's are the past 5 years' winners with their stories (links below).  It's celebration time when a king is landed over 50 pounds. It's tradition to bring out the Crown Royal and, if it's the first Chinook over 50 for the guide, they're expected to take a dip in the cold waters of the harbor.  Brrrr.. but maybe that Crown Royal helps keep 'em warm?
Each of these winners won King of the Month adding a 3-night return trip to the $10,000 cash prize they received. For all the daily winners, view our 2022 King of the Day winners page or in our Facebook album or on our Instagram profile page posts and reels. 
Better yet, sign up now for text messages for 2023's daily KOD announcements and more. Watch the leaderboard and social media (Facebook, Instagram @waterfallreortalaska and Twitter @FishingResort) for daily winners. 
The truth is that when it comes to fun, adventure and just plain fishing, everyone wins. There's all that delicious fish to take home, fileted, packaged, frozen and boxed, transported to Alaska Air and checked for you as luggage. That's an award itself!
If you prefer the fun of landing silver salmon (Coho), you're not left out. Each year we give $2500 to the Silver of the Month for King of King Salmon Tournament participants. 
For our halibut lovers, the award is the thrill and recognition at the dock and in our social media for pulling in those 200 to 500 lbs giants!  Buy your halibut GAF Tags now!!!  They're still available so call us now: 800-544-5125. 
And then there's lingcod, not part of the tournament, but so much fun showing off those toothy smiles – the fish's not yours. There are lots of recipes for all of the fish, too!
Are you ready to join the fun?  You can register for the King of King Salmon Tournament when you reserve your dates or at the docks.
Let's Go Fishing!