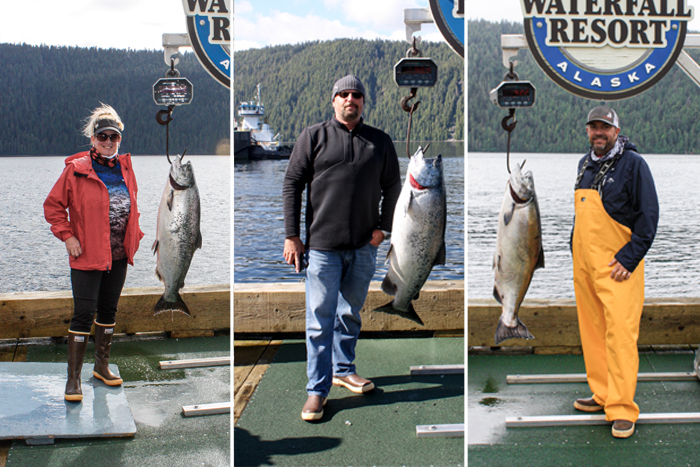 2020 Tournament Winners
Despite the challenges of Covid keeping many people at home this summer, we stayed open for our summer fishing season.  The result?  Our annual King King of King Salmon Tournament, one of the largest in Alaska, produced some very lucky winners:
Jerzy Poprawa of Scottsdale, AZ - $10,000 winner of the Tournament for largest king of the season (46.4 lbs)
Cary Wyatt of Ponca City, OK - $10,000 winner of the season-end Tournament drawing
John Centner of Houston, TX - $2500 winner for July Silver Salmon of the Month (10.8 lbs)
Ian Gibson of Santa Ana, CA - $2500 winner for August Silver Salmon of the Month (11 lbs)
Like the Wall Street Journal article recently published about Alaska building one of the most comprehensive Covid-19 testing operations in the U.S., here at Waterfall, we were determined to provide a seamless and safe sportfishing  adventure for our guests.  We were very happy to see consistently big salmon being caught this season by our guests, bigger overall than several prior years. Our average KOD was almost 31 pounds. The silvers continued to come in strong, too.
Four of the five King Salmon of the Week, each winning their victors a return trip to Waterfall Resort, were well into the 40-pound range:
July 18 - Bob Britt Senior of Vancouver, WA (42.1 lbs)
July 21 - Mark Burch of Lincoln, NE (42.2 lbs)
July 28 - Jerzy Poprawa of Scottsdale, AZ and winner for the season (46.4lbs)
August 2 - Jason Perkins of Irvine, CA (45.6 lbs)
August 12 - Greg Harrington of Edgewood, WA (32.4 lbs)
It was a strong family year as well, with all of the Tournament victors having family with them.  Cary Wyatt has been a guest for 3 years running and brought 3 generations of her family this year.  "It was the first time for 2 of our kids, Codyak and Chelsea. Our nephew who just graduated high school, my mom and both of my husband's parents also came. We all had such a great time!"
We're looking forward to another exciting season in 2021, and we certainly hope you can join us.