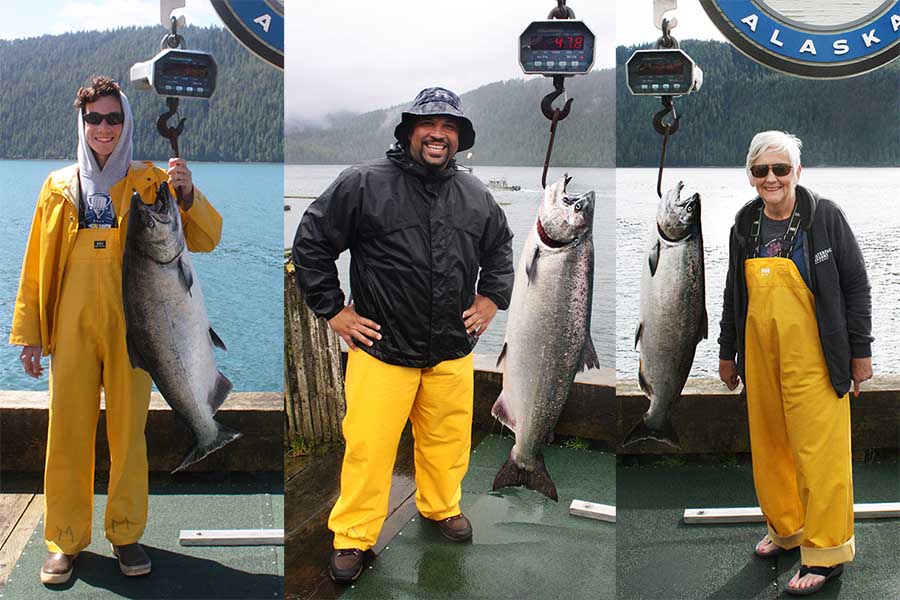 FROM THE GENERAL MANAGER
2018 King of Kings Tournament Winners
It's my pleasure to announce the Grand Prize drawing winner for our 30th Annual King of Kings Salmon Tournament. That's Pat Frazier (above, right) of McKinney, Texas, whose 29.9-pound king, a personal best caught August 8, scored her the new Ford F-150 pickup. Frazier has been fishing lakes since she was 6 years old and knows her way around trout, striped bass, crappie, and catfish, but saltwater salmon fishing in Alaska was a first.
"What a rush!" Frazier says of the experience. "And I can't say enough about our guide—without him there would be no truck." Frazier and her husband were also pleased to bring home 250 pounds of fish.
Meanwhile, repeat guest Tony Perkins of Kirkland, Washington, featured in our previous newsletter, has officially taken the tournament throne, proving that in his case, the third time's indeed the charm. On July 16, during none other than his third trip fishing with us, King Tony reeled in a magnificent 48.2-pounder—"Yes, the biggest fish I have ever caught"—and went on to win the King of Kings title and the $10,000 cash prize.
Other tournament winners include Andre Burchette (above, center) of Phoenix, Arizona, who won First-Time Guest King of the Season with his 47.8-pounder, caught August 3. "It took 45 minutes of grueling work to get that fish in the boat," says Burchette. "The whole adventure was one for the bucket list—I can't wait to come back next year."
Burchette won a return trip to Waterfall Resort in 2019, as did another of our repeat guests, 15-year-old Evan Gibson (above, left) of Santa Ana, California. Gibson landed the prize for 18 Years and Under King of the Season with a 39.5-pound king. "I started coming here when I was 8," notes the Waterfall Resort veteran. "I love it—the fishing, the whales, the eagles, everything."
King of Kings Salmon Tournament tickets are $95 per person; for 2019 tickets, contact us at 800-544-5125.