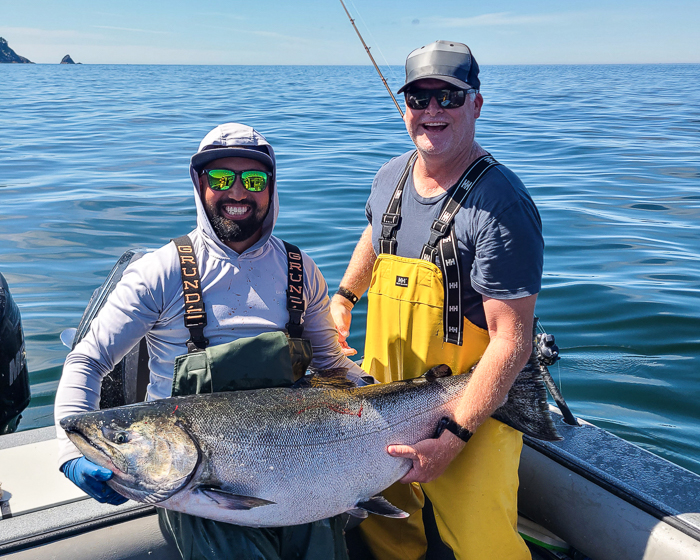 FROM THE GENERAL MANAGER
King of King Tournament Winners
The 2021 sportfishing season at Waterfall Resort Alaska closed with some fun wins including a State Youth Trophy sized king salmon catch. The King of King Salmon Tournament, one of the largest tournaments in Alaska for ocean sportfishing, announces the winners for king salmon, silver salmon and the season-end drawing for the Ford F-150 truck.
Lucky Jeff Walker, pictured above, first time visitor from Cardiff by the Sea, California, landed a 50.2 lb king salmon to win $10,000 for the season's largest. 
"I am one lucky guy since I have never been to Alaska or fishing much.  In fact, coming up with ISEC and McCarthy Construction was unexpected as I was a late replacement for someone who could not go.  Plus, the fish only started fighting when it got close to the boat, then it was "fish on!'  Even for the guide, Luis, it was his first year, too!  All-in all, the whole trip was a once in a lifetime that I'll never forget!"
As for the season-end drawing, Dennis Holloway of Mother's Polish, located in Huntington Beach, California, was pulled as the winner. Dennis has been a return guest for years originally coming with Petersen Publishing and later with Motor Trend Magazine.  This year was with friends from the prior trips.  Dennis has never won King of the Day before this year. 
"I'm usually the guy walking away with empty pockets and nothing to show for it," shares Holloway, "yet this year, not only did I win this, but I had a great fishing season – 2 halibuts, one 72 lbs and one 117 lbs. My next catch was king of the day and what won me the truck, but it actually snagged with the line around its mouth instead of getting hooked!  It was a lucky day!"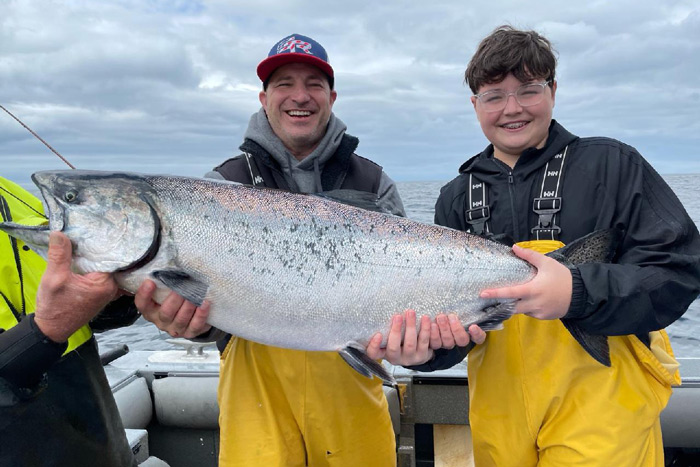 King of the Week winners each receive a 3-night/4-day return trip for the 2022 season. Nick Simons, a lucky 13-year-old, won Week 6 this year with a beautiful 42 lb king salmon. That's a Youth Trophy size according to the State of Alaska. His brother, Max, sister, Elissa, and dad, Mark, were all there with him to share the excitement.
"I've been coming to Waterfall Resort for 12 years, and then Nick, on his first trip, lands a bigger fish than I've ever caught! It was a great time that none of us will ever forget including all the fish and the Alaska firsts for Nick like the whales, eagles, bears and more.  I'm hoping we can share it all again and again!" says Mark.
Check our 2021 King of Day Leaderboard for all the winners.
Silver salmon is another favorite catch.  The Silver of the Month winners each get $2,500. Congratulations to all:
June: Michael Milan of Oxnard, CA
July: Greg Ellis of Dana Point, California
August: Steve Smith of San Clemente, California.
Michael Milan, who has visited Waterfall Resort twice so far, shares his overall experience for both years:
"Waterfall is definitely not the kind of place to visit just once because you could never see or experience everything in one trip. So far, I've been twice and looking forward to the third. No matter what time in the season you go, and I've been in June and in August, I can honestly say that each trip was successful in its own, unique way."
The Tournament always ends with great stories to be shared for years to come.  We hope you'll join us next year in 2022 to share the fun of it all.
Let's go fishing!