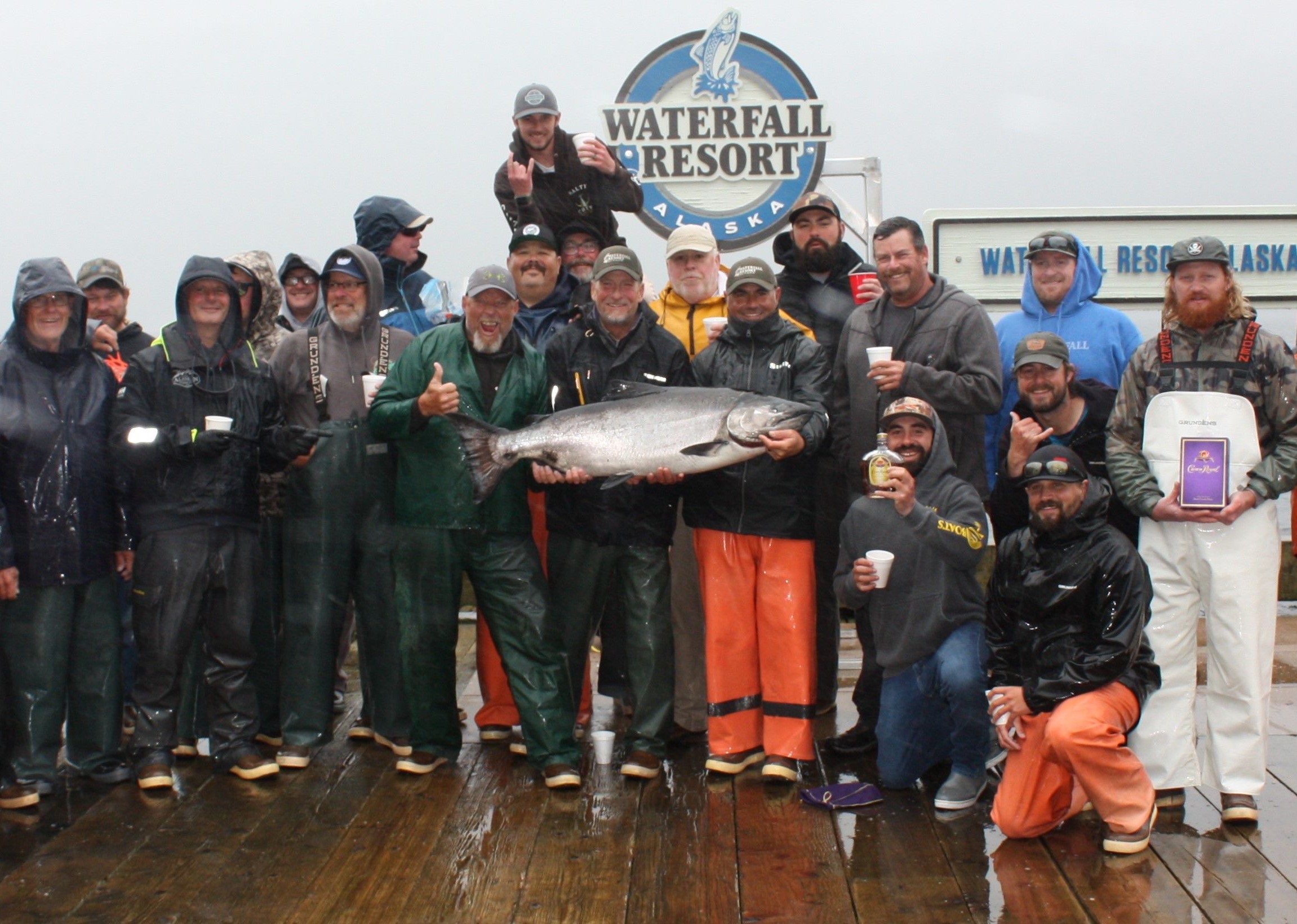 FROM THE GENERAL MANAGER
The 2022 King of King Winners
The 2022 sportfishing season at Waterfall Resort Alaska is now closed and the King of King Salmon Tournament winners confirmed. Our King of King Salmon Tournament awards thousands of dollars each year plus return trips and a brand-new Ford F-150 truck. Each season we enjoy seeing both expert and novice anglers win King of the Day and be entered for weekly, monthly and seasonal prizes.
The traditional, season-long King of King Salmon Tournament is one of the largest tournaments in Alaska for ocean sportfishing. King of the Day (KOD) winners are announced each night at dinner awarding Waterfall General Store merchandise for the tournament-registered guest who lands the largest king salmon for that day. This season, in addition to the grand winner, there were 7 guests who landed kings over 40 lbs.
This 2022 season, Kaz Kanemura, a return guest who has been coming with his father since 2004 when he was just 13 years old, landed a 52.2 lb chinook.  When asked what he'll do with the $10,000 prize money, he humbly responded,
"The win was a combination of effort so it's only fair I share the wealth with my dad, for bringing me to Waterfall Resort in the first place, and with Silas, our fantastic boat Captain and fishing guide. If it hadn't have been for Silas's expertise, I could have lost that king all-together because the hook was caught on the lower jaw where the king couldn't feel it and could have easily shook his head when being netted and gotten away."   
Every daily winner is also entered into the season-end's drawing for a Ford F-150 truck. This year, the drawing results pulled Kim Bird, a first-time guest from Idaho, as winner.
"I could hardly believe how lucky I was!  It was the first day of season when I won King of the Day. I have to say, though, in addition to the excitement of winning the truck, my favorite part was making new friends. The whole experience was like family which made it all that much more special."
Silver salmon are not forgotten in the Tournament. Each month the largest Coho wins $2500!  The 3 winners for the 2022 season are:
June: Ron Longinotti, a new guest from California, (8 lbs)
July: David Nelson from Colorado (11.5 lbs)
Aug: Tony Fiori from California (10.8 lbs)
"I came on a family trip with my close friend Jay Risher who has been visiting Waterfall Resort for years," shares Ron Longinotti. "We made it a father/son trip, me with my son and grandson, Jay with his boys and a new friend, Mark Melnick and his son. Out of the 8 of us, 5 had never been to Alaska before. It was spectacular, every day a new experience. I could hardly believe that while fishing, there was like a highway of humpback whales breaching and traveling just a hundred yards away. It felt like we were in a National Geographic movie!"
Check our Leader Board for all the winners including weekly and monthly.
As for other notable catches, lingcod is another favorite due to its flavor, large size and remarkably ugly appearance.  This year, several landed monsters:
Bob Berto - 58.6 lbs (Alaska State Trophy size)
Lenley Diorion – 48.2 lbs
Vaughn Vogel - 48 lbs
Sam Kito – 47 lbs
Kim Bird – 42.8 lbs
Augie Isneria – 40.6 lbs
A host of guests, landed Pacific halibut over 100 lbs, including 8 150 lbs or more and one estimated at over 200 lbs released by Austin Lev. Twelve-year-old Robbie Valk is in that group having landed a 113.6 lb halibut, larger than he is!
In August, although Jada Portella did not choose to enter the Tournament, she landed a 13 lb silver "coho" salmon!  That's bigger than both this year's and last year's largest silver so deserves some recognition! Congratulations, Jada!
To close with a quote from one of our winners, Tony Fiori, who has been coming up regularly with the Southern California Ford Dealerships,
"What's most fascinating to me is that, due to having to deal with unreliable weather, Waterfall Resort is still able to put together a memorable experience that overcomes whatever Mother Nature decides to dish out. Every year is a little different with different challenges to face, yet every year I leave with more great memories."
Thanks, Tony! And thank you to all our regular guests and our new guests, too. You all are why this job continues to be fun season after season.
Let's go fishing!