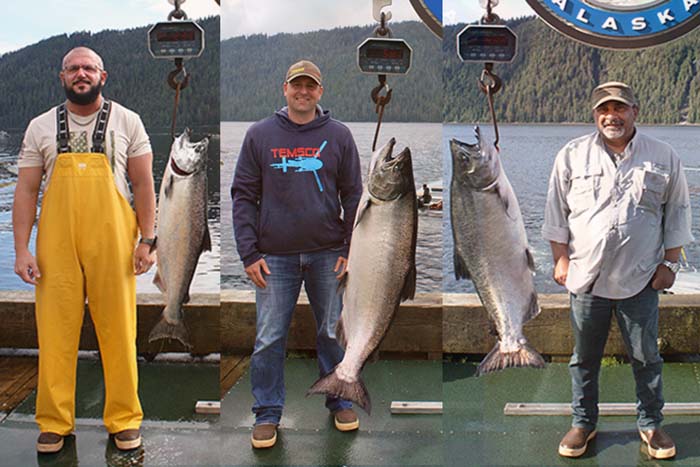 FROM THE GENERAL MANAGER
2019 King of Kings Tournament Winners
It's official. Longtime repeat guest Ethan Berto (above, center) is our 2019 King of Kings Salmon Tournament champion. A Ketchikan resident who's fished with us every summer for nearing two decades, Berto reeled in a 58.2-pound king on July 31 that sealed his King of Kings title. We'd like to think it makes up for the moment back in 2016—the lone year Berto didn't buy a tournament ticket—that he caught an impressive 50-pounder. His personal best at the time, that catch would have put him in a tie for second place. We're guessing "first"—and the $10,000 cash prize that goes with it—feels better.
Indeed, as Berto tells it, it was one of the best king bites he'd ever experienced."We had a double on when the fish was hooked," he says. "I was the only one to see it run at the boat and get an idea of its size. I certainly wasn't going to share that info—no one wants to be the guy who says he has a really big fish, only to lose it...." He didn't, boating it on the first attempt. The rest, as they say, is history.
Meanwhile first-timer Sunjit Yoshi (above, right) of Glen Cove, New York, this year's second place winner, should be quite pleased with his winning catch, a hefty 48.2-pounder boated August 16. That beauty won him First Time Guest King of the Season and a return trip to Waterfall Resort in 2020. And Scott Halstead (above, left) of Louisa, Virginia, also a first-timer, is the 2019 season's Grand Prize winner. Halstead hooked a 23.9-pound king on June 24. That lucky catch scored him King of the Day—and entry to the drawing for his new Ford F-150 truck.
Rounding out the top five on the king leaderboard were Fred Goll (46.7) of Henderson, Nevada; Keith Costanzo (46.4) of Valencia, California; and Bill Buckner (45.2) of Costa Mesa, California, all close contenders. And in sixth place, 14-year-old Jackson Risher of Huntington Beach, California, caught a 43.3-pounder. Brian Bothman (42.5) of Santa Clara, California, took seventh, followed by Tim Zimmer of Port Angeles, Washington (42.0); John Lazovich of Reno, Nevada (41.0); and Ryo Ishizuka (40.5) of Mercer Island, Washington.
As for silvers, Hristo Marintchev of Annandale, Virginia, landed the biggest silver of the season with a 15.2-pound coho on August 11, also biggest silver of the month. Steve Brown of Irvine, California, reeled in the biggest for July with a 12.4-pounder, and Rob Temple of Oregon City, Oregon, took June with a 9.8-pounder.
Along with season champ Ethan Berto's cash win and Halstead's pickup truck, prizes included return fishing trips to Waterfall, gift certificates, and logo ball caps. It's always a great pleasure to extend our congratulations. Be sure to check out all the 2019 tournament winners on our Facebook page.