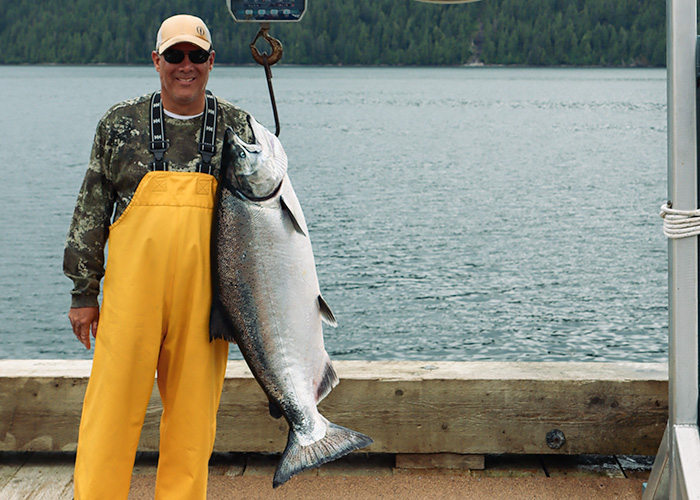 FROM THE GENERAL MANAGER
Reel Big Catches in 2023
Could the 53.6 lb king salmon landed by Dave Faccio on July 15 could take the $10,000 prize for the King of Kings Salmon Tournament? Or, are YOU still scheduled to come?  
Don't worry, there's also the season-end drawing for a brand new Ford F-150 truck!  All the King of the Day (KOD) winners are entered. Who will win this year's?
There have been 12 chinook pulled in over 30 lbs so far. Kings over 35 lbs are listed below but check out the Leader Board to see them all. You can sign up for SMS texts to stay informed daily, too.
Rod Riddle 45.5 lbs
Dan Fink 40.5 lbs
Lance Ballew 35.8 lbs
Robert Sencer 35.4 lbs
Mike Bolen 35.1 lbs
Beyond the Crown Royal (which hit the docks with the 53.6 lb chinook), we've been having a lot of fun this season.  As Randy W, a guest in early June, described in a review on Trip Advisor:
A one-of-a-kind fishing experience.
The ultimate Alaska fishing experience. An incredible setting, great service including terrific guides who work hard to insure that you go home with fish.
Thanks, Randy.
Our July 4th activities brought the fun up another notch with "Tub Racing, fish-head toss and more.  As Fred Goll, a friend and long-time guest, summed it up on a social post:
Just finished up our annual father son fishing trip to Alaska now up to 11 years. Overnighted in Seattle on the way, caught a Mariners game, had great weather and our second highest fish total thanks to our intrepid fish whispering guide silasstardance. Ara capped off the trip with a win in the salmon head toss and we teamed for a second place in the egg toss for some cool @waterfallresortalaska swag. Looking forward to year 12.
We're now two thirds complete with the season. The last guests arrive August 23. With only a little over a month to go, we're still pulling in those kings and having fun with the silvers.
When it comes to halibut, WOW!  New guest and youth Jamison Roesner hauled up a 222 lb giant last week. Previously, on June 25th a 178 lb one was hauled up by Michael Louland. On July 14 Josh Shaw brought in a halibut weighing 137.8 lbs, and on July 15, another guest landed a 144.4 lb one. That's just at the docks. Often extra-large halibut are released from the boat after the guide estimates its weight.
Then, of course, there's lingcod, a favorite due to its incredibly ugly appearance with a huge mouth and sharp teeth, AND delicious eating. Some chefs compare it to lobster, especially in texture, with a mild cod taste. On June 20, Charlie Dennis brought in a 61.1 lb "lingzilla!"
Regardless of which fish our guests pull in and take home, our head chef and now General Manager Assistant, Meagan Bowers, offers great recipes on our website. You can search for specific fish or simply browse to get inspired and share your fish feast with friends and family.
It's always fun to hear the stories and awe at Alaska's beauty and wildlife as guests leave. Even a walk to our namesake waterfall is one that combines the unique experience of the Tongass, the largest temperate rainforest in the world (Amazon is tropical) with Alaska's black bears, deer, bald eagles and spectacular midnight sunsets. We encourage ALL our guests to take lots of photos and videos and enter the annual Guest Photo Contest, too. There are four categories, each awarding a $150 gift certificate at our General Store.
So, if you didn't make it this season, we look forward to seeing you in 2024. Check off that bucket-list item of Alaska, or if you've already been, come back and let's have some more fun fishing in Alaska!
Let's Go Fishing!