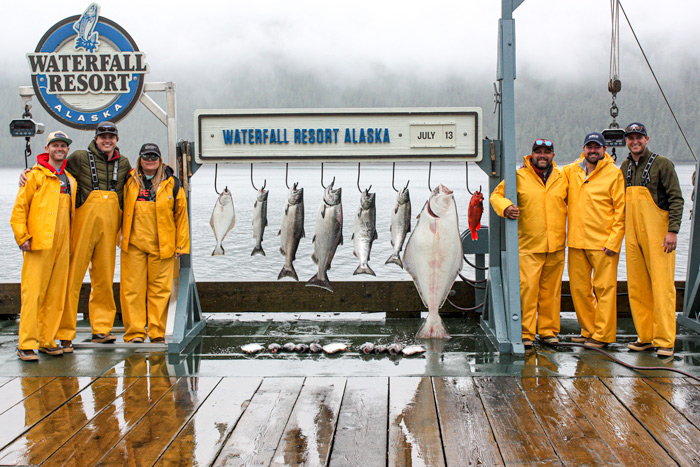 FROM THE GENERAL MANAGER
Boating the Big Ones in 2021
It was a packed season with some great fishing for our guests. Final results for our 2021  King of King Salmon Tournament are not yet confirmed but we can share some great catches overall, looking at tournament and non-tournament entries combined:
Largest Silver salmon was landed by Steve Smith of San Clemente, CA – a beautiful 12.4 lb Coho.
Josie Hickel of Anchorage wasn't far behind with a 12.3 pounder.
Largest King salmon was landed by Jeff Walker, a 50.2 lb Chinook. That meant a dip in the ocean, as tradition demands, for guide John C!
Guest Mark Hallam followed Jeff with a very respectable 46 lb King.
There were 3 Pacific halibut 200 lbs or more. Dane Lucas brought in a 201 pounder.
Hunter Aguilera and Michael Clow both landed 200 pounders. 
Seven more weighed over 100 lbs but under 200 lbs.
Young Dylan Hassan brought home a 47.3 lb monster lingcod. That's well over Trophy weight for Youth! 
Dan Crosby followed with a 40.5 lb lingcod.
As for the final Tournament results?  Well, you'll have to wait till September when we can confirm everything before announcing the winners.  You can check out our leader board for the unofficial results. Here's what the prizes will be this year:
King of the Season ($10,000)
King of the Week (7 winners receive 3-night return trips)
Silver of the Month (3 win $2500 each). 
All KOD winners are placed in a drawing to win a brand-new Ford F-150 truck! The final announcements will be in late-September after confirming with the winning guests.
Thank you to all our guests!  We had fun with you each, as always, and look forward to more next year in 2022. 
Please be sure to tag us on social media, @waterfallresortaslaska, when you post.  You may see us reposting yours on our own social media when you tag us.
Also, be sure to submit your beautiful photography in our annual Guest Photo Contest for both photos and video this year.  Click here for details and to enter.
Let's Go Fishing!
**The leaderboard and all winners are tentative until verified.