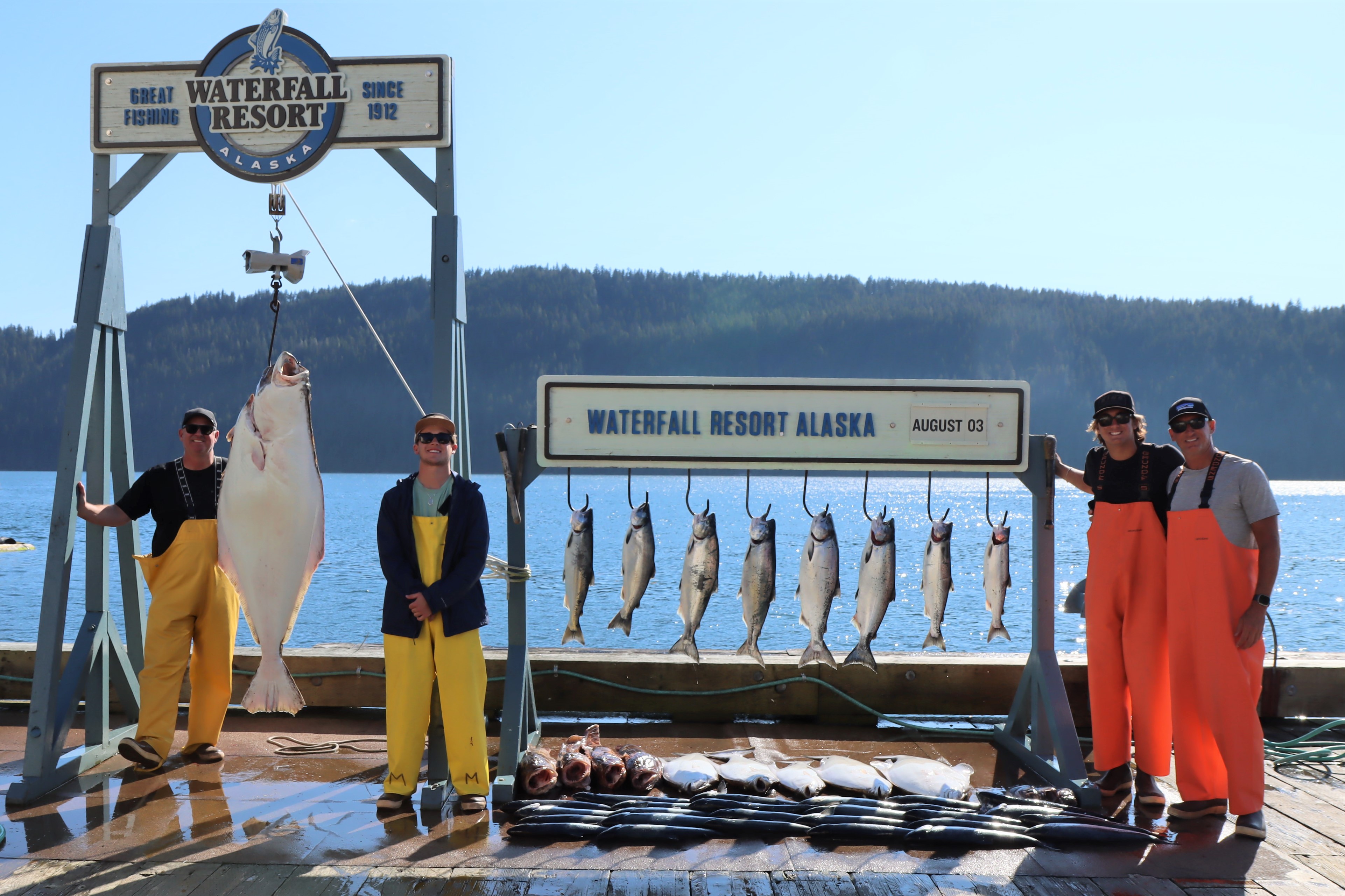 FROM THE GENERAL MANAGER
Reeling in Alaska's Best: 2023 Season Fishing Highlights
The 2023 fishing season at Waterfall Resort in Alaska was nothing short of epic, with beautiful weather and fantastic catches that left our crew in awe. Although the official results for the highly anticipated 2023 King of King Salmon Tournament are still pending verification, we're thrilled to share some remarkable catches from both tournament and non-tournament participants. It was a season to remember, filled with exciting moments and plenty of fish tales!
Reel Heroes of the Season: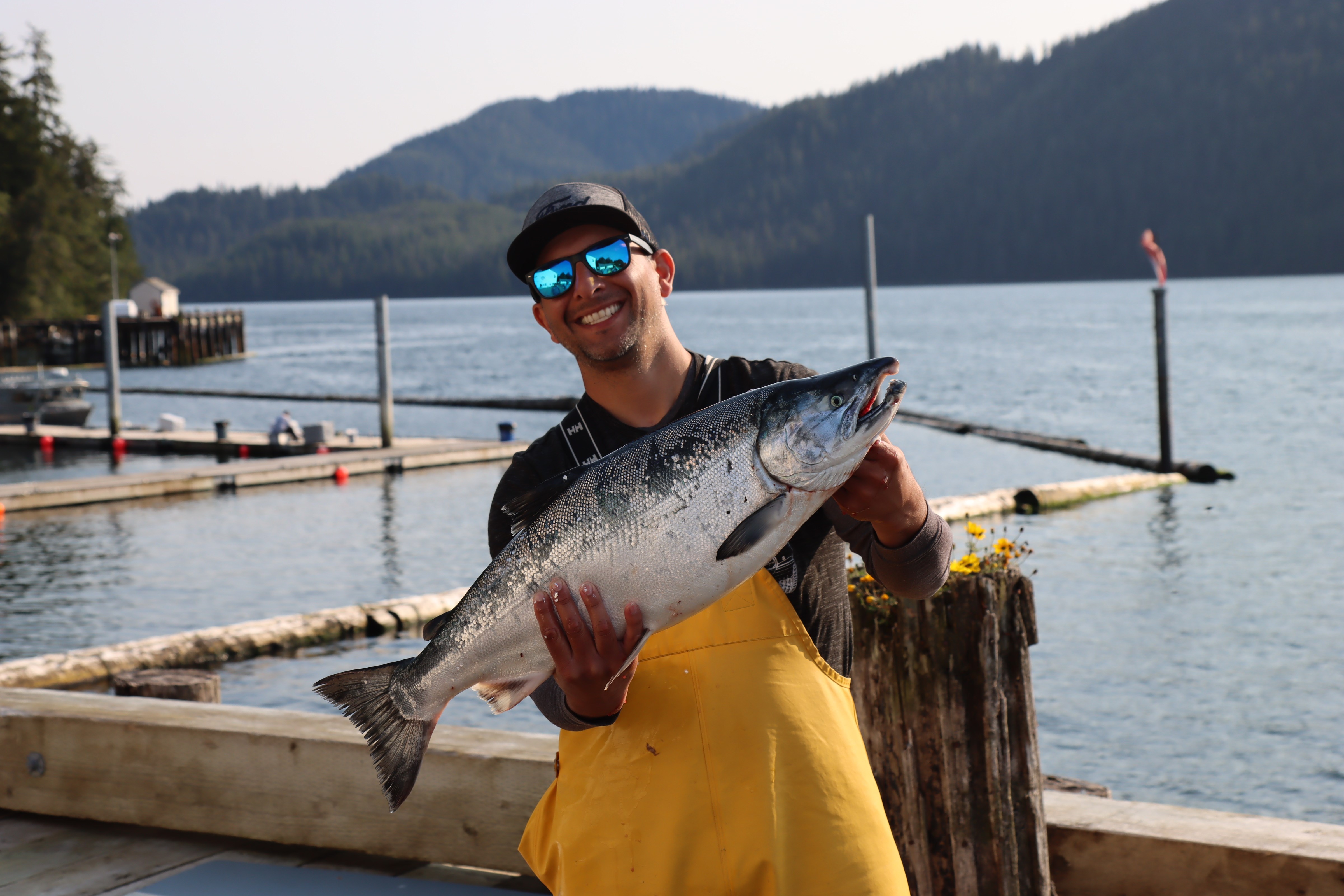 King of Kings: David Faccio emerged as the King of King Salmon with his monstrous 53.6-pound Chinook salmon, pictured below. Tradition dictated a celebratory ocean dip for our guide, Richard! Rod Riddle, another skilled angler, followed closely with a respectable 45.5-pound King salmon. Check out Rod Riddle's video showcasing his epic catch! Are you ready to reel in your very own King? We highly recommend joining us in the month of June, as it is the prime season for King salmon. During this time, the limits are typically higher, giving you a greater chance to land a prized catch.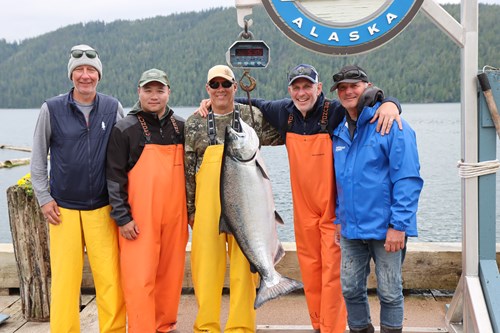 Halibut Heavyweights: The Pacific halibut put up quite a fight, with two of them tipping the scales at 200 pounds or more. Michael Schunk led the pack with a massive 239.4-pounder, pictured below, while Jameson Rosener also joined the elite 200-pound club with his 222-pound catch. Twenty-one more halibut weighed over 100 pounds but fell just shy of the double-century mark.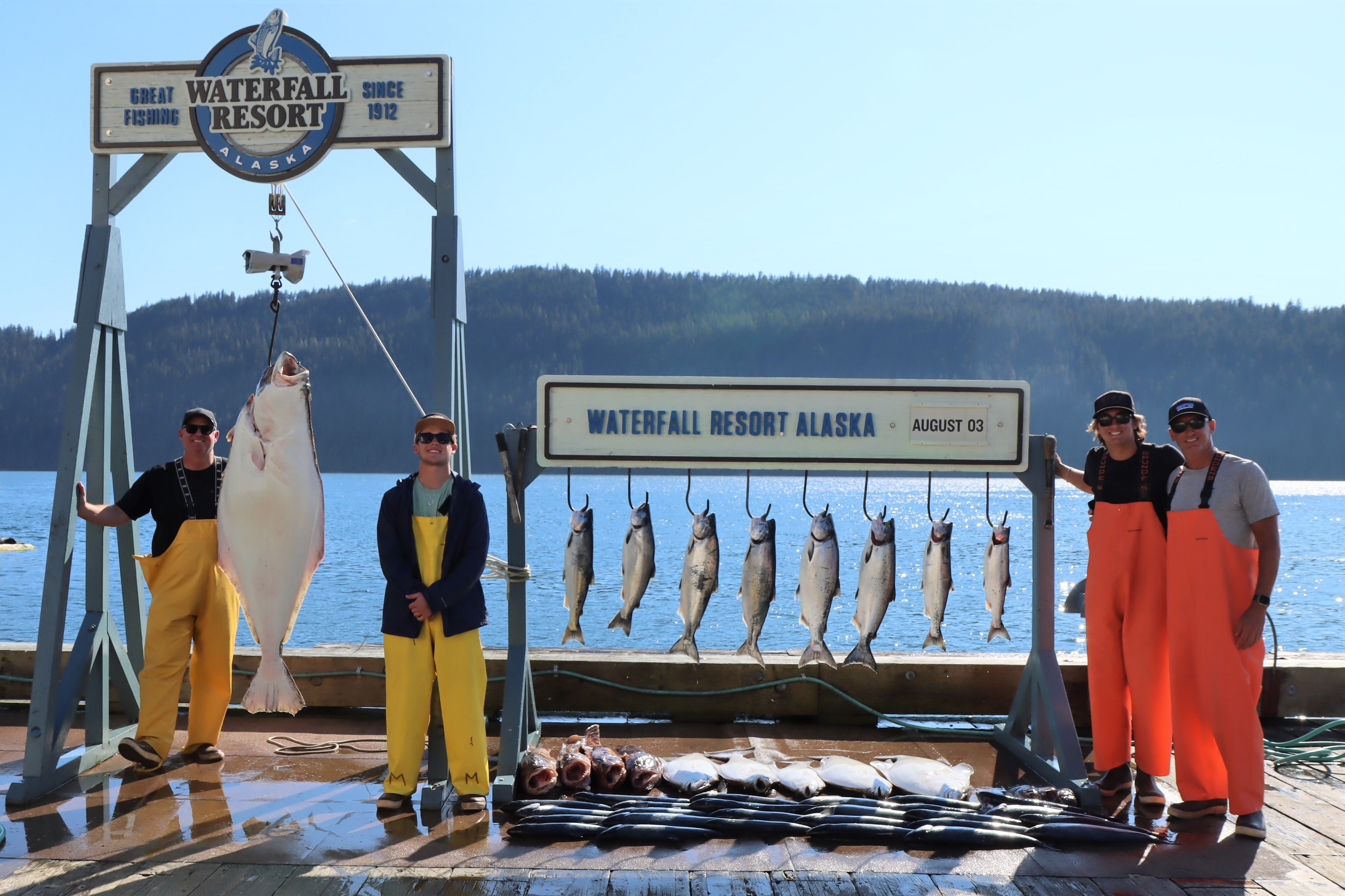 Coho Champions: Adam Elenes, hailing from sunny Lake Elsinore, CA, reeled in the largest Silver salmon of the season, a solid 14.4-pound Coho, pictured below. AJ Howard of Meadow, TX, not to be outdone, was a close second with his impressive 13.3-pound catch.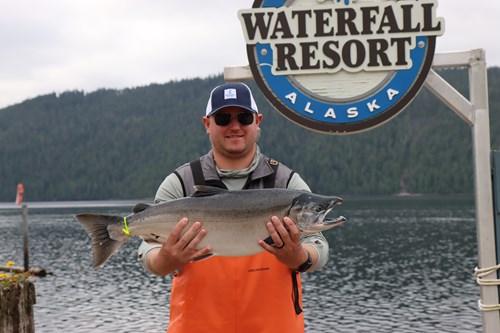 While these catches are undeniably impressive, the suspense continues to build as we await the final results of the King of King Salmon Tournament. The big reveal is scheduled for start of October, so stay tuned! In the meantime, you can stay updated by checking out our leaderboard for the unofficial results.
Prizes Fit for Fishing Royalty:
Waterfall Resort takes pride in rewarding its fishing champions. Here are the tantalizing prizes up for grabs this year:
King of the Season ($10,000): The angler who reigns supreme over the entire season will be crowned the King of the Season and will take home a princely sum of $10,000.
King of the Week (7 winners receive 3-night return trips)**: Seven lucky winners, one for each week of the season, will enjoy a well-deserved return trip with a 3-night stay.
Silver of the Month (3 win $2500 each)**: Three fortunate anglers will win $2,500 each for their exceptional Silver salmon catches.
Grand Prize Drawing**: All King of the Day winners will be entered into a drawing for a chance to win a brand-new Ford F-150 truck! The anticipation is electrifying, and we'll be announcing the winners in late September, once we've thoroughly verified all the data.
We extend our heartfelt gratitude to all our guests for sharing this incredible fishing season with us. As always, we had a blast and can't wait to create more unforgettable memories in 2024. Remember to tag us on social media, @waterfallresortalaska, when you post your fishing adventures. We might just feature your posts on our own social media channels!
And speaking of memories, don't forget to submit your stunning fishing photography for our annual Guest Photo Contest, which includes both photos and videos this year. Click here for all the details and to enter.
So, anglers, gear up, cast your lines, and let's go fishing! Remember, the leaderboard and all winners are tentative until verified, but the excitement and camaraderie of the season are undeniable. Here's to another incredible year of fishing at Waterfall Resort!