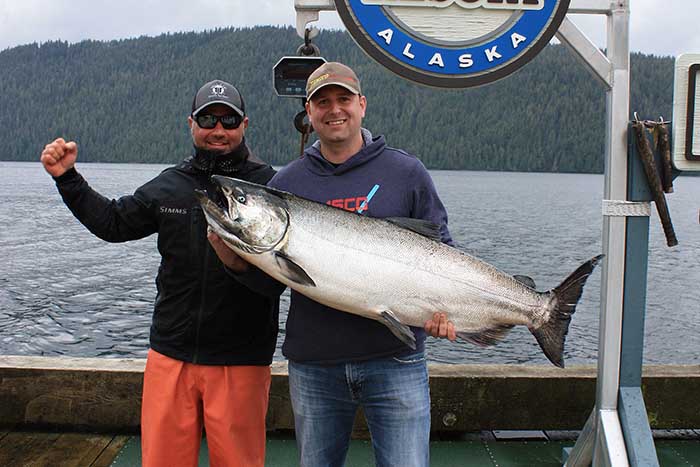 FISH
King Salmon Fishing in 2020
Posted 1/17/2020
Currently the Alaska Department of Fishing and Game uses the Southeast Alaska Winter Troll CPUE (catches per unit of effort) to adjust the limits for the Alaska harvest of King Salmon for the following year. We're happy to report that the commercial winter troll is already seeing more fish in our area, which is a good precursor to what we can expect for the next season in terms of limits and quantity of king salmon. In addition to these numbers, many analysts are anticipating a much-improved 2020 fishing season compared to previous years. Even though we had a great 2019 season, with more and larger king salmon being caught than past seasons, we're excited that our guests can look forward to reeling in even more hefty kings in 2020.
The 2020 season is looking like it might be quite a notable year at Waterfall Resort.  Stay tuned, we will be reporting on ADFG limits once they are announced later this year.
Recap of 2019
The typical peak season for king salmon fishing is from mid-June to mid-July, however in 2019 we saw consistently large catches throughout the season. Our heaviest king salmon, caught July 31st in the King of Kings Tournament, trumped the previous year's largest kings weighing 58.3 lbs.  The second largest weighed 48.7 lbs, caught on August 16th.