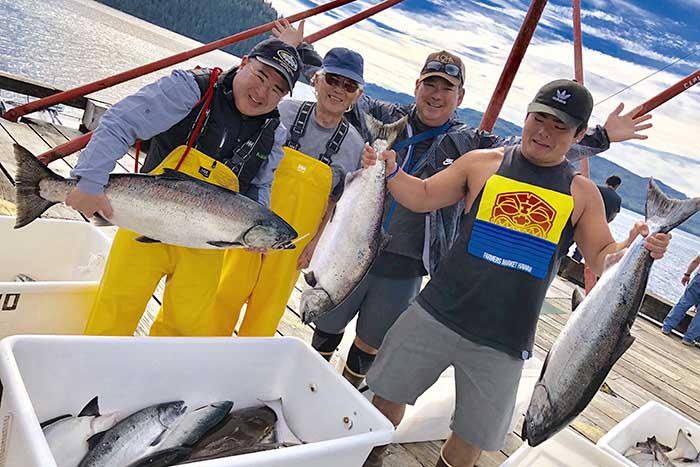 FROM THE GENERAL MANAGER
Kubota Family Lands Two Out of Three
First-time guests on father-son fishing trips won all three categories of our Waterfall Resort Photo Contest this year. Add to this that Peter Kubota and son Chris, both of Hilo, Hawaii, not only won two out of three of those categories, but Peter took "Best Fishing Photo" with two shots that tied for the title.
Peter's winning entry Dad Is Proud of His Sons (above) is a shot of his fishing foursome: Chris and another father-son duo, George and Wayne Atebara (above, from left: Wayne, George, Peter, and Chris). His other winner, Waterfall Veteran, captured a satisfied-looking George Atebara kicking back aboard their cruiser after limiting out for the day. Meanwhile, Chris Kubota landed "Best Wildlife and Nature Photo" with Bambi, a whimsical shot of a Sitka black-tailed deer nosing up to his camera lens.
The Kubota and Atebara families are longtime friends and it was the Atebaras, also of Hilo—who have fished with us every summer for going on 15 years—who finally convinced the Kubotas to join them. The Kubotas both scored $150 gift certificates for General Store merchandise. So the question is, will they give the Atebaras a finders-fee cut of the goods?
As for "Best Resort Photo," Kitz Parker of Denton, Texas, shored up that category with Arrival, an artfully composed image of Waterfall taken through the window of his floatplane. The floatplane ride was a first for Parker, as well as for his son, Zach, and he used the plane's instrument panel to frame the resort as the plane motored toward the docks.
"This was a great experience for us," says Parker, who also won a $150 gift certificate. "And it was also a first time to catch salmon and halibut!"
Congratulations to all and thanks to all the guests who submitted photos. You can check out all the contest entries on our Facebook page.