START YOUR WILD ALASKA FISHING ADVENTURE
We look forward to seeing you soon at Waterfall Resort. Below are your next steps and a few travel-planning tips to jump-start your trip, including:
GUEST REGISTRATION
If you and your group have yet to complete your Guest Registration and Participant Agreement, please do so as soon as possible. This allows us to schedule floatplanes and have fishing licenses ready for you on arrival. 
If you're a party of four or more, contact reservations to let us know rooming and boating assignments.
PACKING LIST
We recommend packing light so you can use your airline's checked bag allowance for fish boxes on your return flight. Airlines limit hand-carries to one item of carry-on size and weight, and one personal item, such as a backpack or briefcase. Waterfall Resort provides your fishing gear and all-weather gear. Make sure to check out our suggested packing list. After check-in at the resort's General Store, you'll head straight to your boat with only your carry-on bags. So be sure to pack any essentials (camera, sunglasses, sunscreen, medications) in your carry-ons.
Waterfall Resort bags tags will be sent to your group leader. Before departure for Ketchikan, all members of your group should attach the tags as follows:
Attach GREEN TAGS to all CARRY-ON LUGGAGE
Attach YELLOW TAGS to CHECKED LUGGAGE
*If you are coming in the day before arrival, you can put your bag tags on when you get to Ketchikan.
*If you did not receive your tags don't worry, tags are available at the airport and at the front desk of most of the hotels.
LANDING AT KETCHIKAN INTERNATIONAL AIRPORT
For guests continuing on directly to Waterfall Resort:

Be sure to dress for fishing—once you arrive at the resort, you'll pick up your fishing license in the General Store, meet your guide at the boat, and head straight to the water.
At the Ketchikan airport, our Waterfall Resort ground crew will meet you in the lower level
baggage claim and direct you to your floatplane flight. Guests will pick up luggage at Baggage claim and bring them to our counter. A Waterfall representative will be on hand to assist. If you did not have a chance to tag your bags before you departed for Ketchikan, don't worry, you can do so at this time. Remember to dress for fishing. Your large bags will go automatically to your room at Waterfall Resort but keep your smaller hand carry with you onto the float plane if you want it to go on the boat with you for this afternoon. After bags are tagged and collected, we will check you in for the floatplane flight departing directly from the floatplane facility at the airport

For guests overnighting in Ketchikan:

The Ketchikan airport is on an island separate from the town, so you'll need to transfer to your hotel via the Airport Ferry ($6 per person).
Collect any checked luggage at baggage claim, then walk onto the ferry with your bags. For pickup on the town-side ferry terminal, call ahead for a hotel courtesy van or a cab; Yellow Taxi is 907-225-5555.
On your travel day to the resort, attach Green Tags onto all pieces of luggage prior to check-in. You will be notified what floatplane company you will be flying with that morning.
We use multiple float plane companies, and since most of our guests overnight at the Cape Fox Lodge, we dispatch all guests out of the Cape Fox Lodge lobby 

Please be at the Cape Fox Lodge lobby with your tagged luggage at 11:30 am on your Waterfall Resort travel day, a Waterfall Resort representative will meet you there and will take your checked bags to the luggage plane, keep your small hand luggage with you.
The float plane shuttles will arrive between 11:45 am and noon to take you to your plane.
If it is not possible to get your group to Cape Fox call us at 800-544-5125 and we will assist with transportation.  
If you did not receive your packet containing bag tags The Cape Fox Lodge front desk will have some available for you.
FLOATPLANE FLIGHT TO PRINCE OF WALES ISLAND
Whether transferring from Ketchikan International Airport or the townside, enjoy the scenic 40-minute floatplane flight over Alaska's famed Inside Passage and onward to our 52-acre oceanfront outpost on Prince of Wales Island.
ARRIVAL TO THE RESORT
Staff will be there to guide you through the check-in process. Check-in will take place in The General Store, then rain gear will be provided in our Mud Room (if needed).
On the water, your guide will outline options for fish trimming. Waterfall Resort professionally processes your catch—vacuum-packing, flash-freezing, and storing it in wet-lock boxes until your departure. Fish boxes are designed for travel as checked luggage (some airlines may apply baggage fees). On your first day on the water, boats return to the resort by 5:30 p.m.
SUGGESTED GRATUITIES
Many guests have questions about gratuities at Waterfall Resort. We try and keep it simple for our guests. There are two specific gratuities to consider, Guide and Hospitality Crew. The Guide Gratuity goes directly to your guide, and you can either hand it to them personally, or use our tip envelopes located at the General Store.
Hospitality Crew Gratuity can also be done at the General Store and given to the store staff, envelopes for this purpose are located there. The Crew Gratuity is for all staff, and we distribute it based on the level of service the particular crew member provides. This portion of your tip does not include guides, as noted above, or the bar staff.
Here are the suggested gratuities (these amounts are per-guest for your entire stay):
| | | |
| --- | --- | --- |
| Waterfall Resort | Guide - Per Guest | Hospitality Crew - Per Guest |
| 2-Night | $200.00 | $250.00 |
| 3-Night | $300.00 | $375.00 |
| 4-Night | $400.00 | $500.00 |
Gratuities are a personal choice, based on the level of service you receive. These are suggestions to help you plan for your trip.
CELL SERVICE
Cell coverage varies depending on your carrier, and can be affected by weather so we suggest preparing to use WiFi calling while at Waterfall Resort. You  may be able to turn WiFi calling on in your phone settings, or you may need to contact your carrier to enable WiFi calling prior to departing for Alaska. 
If you and those you need to be in touch with both have an iphone, you can call each other using facetime audio. If you do not, we suggest that you, and those you are trying to reach, download the mobile phone app called Whatsapp before your departure to our resort. (Facebook messenger provides a WiFi calling feature as well.)
EMERGENCY CONTACT NUMBER
Waterfall Resort Alaska emergency contact number: 206-455-8623
LAGOON SALOON
The gathering place for swapping fish tales, the Lagoon Saloon is open from 4 p.m. to guests and crew alike. Along with a well-stocked bar, the saloon offers a big-screen TV, two meeting rooms, Wi-Fi, landline Internet access, and pool, poker, and ping-pong tables.
KING OF KINGS SALMON TOURNAMENT  
Offered exclusively for Waterfall Resort guests, this optional tournament must be entered before you board your boat (and catch the big one…). Tickets are valid season-long and available for prepurchase from reservations, 800-544-5125, or upon check-in at the General Store.
GRAND PRIZE One Prize
All King of the Day winners qualify for the Grand Prize Ford F-150!
KING OF KINGS One Prize
The largest King Salmon of the season lands the angler a cash prize of $10,000!
SILVER OF THE MONTH 3 Prizes
Catch the largest Silver Salmon for July, or August and win a cash prize of $2,500!
KING OF THE WEEK 11 Prizes
The largest King Salmon caught each week wins a three-night fishing trip for one person at Waterfall Resort in 2024.
KING OF THE DAY 79 Prizes
Land the largest King Salmon of the day and win a King of the Day hat. Every time you win this prize, you also earn an entry for the end-of-season Grand Prize drawing.
WATERFALL RESORT MAP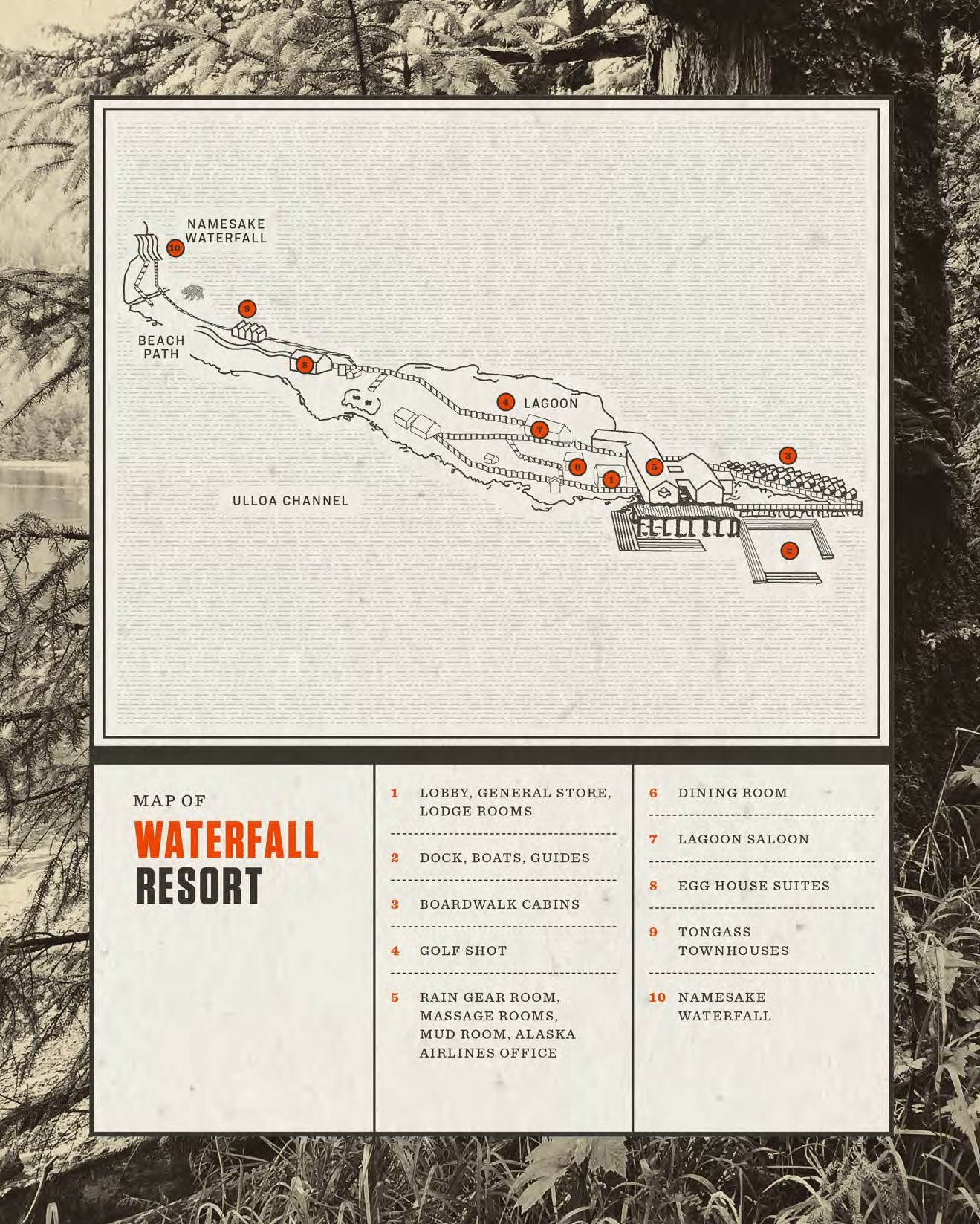 Forget toothpaste? No worries. Our General Store carries all sorts of essentials and sundries to make sure your wild Alaska sport-fishing trip is the best ever. You'll no doubt be bringing home a lot of fish, so pack light. Questions? Contact us at 800-544-5125.