Salmon fishing Alaska, and especially in Ketchikan and Southeast Alaska, is renowned.  Add to that staying at our resort, a renovated, historical cannery right on the king salmon Alaska fishing grounds, and you experience an adventure that will stay in your memory lifelong.
Wild Alaska Salmon Species
There are several kinds of Pacific salmon that migrate to Alaska where they were born and live in the wild.  Stores typically sell farmed Atlantic salmon which are more closely related to species of trout such as brown trout.  Although salmon, overall, is good for you due to being rich in Omega 3 Fatty Acids, farmed Atlantic salmon have much more fat with 3 times the saturated fats that are not so healthy.
Wild Alaska salmon packs calcium, iron, potassium, and zinc together with its healthy Omega 3s for an overall healthier meal. Making the trip to go fishing in Alaska not only builds great, lifelong memories of the adventure, but it also builds healthier bodies eating the various kinds of wild Pacific salmon.  There are several species of Alaska salmon:
King salmon called Chinook salmon,
Silver salmon called Coho salmon,
Pink salmon called Humpies,
Red salmon call Sockeye, and Chum or Dog salmon.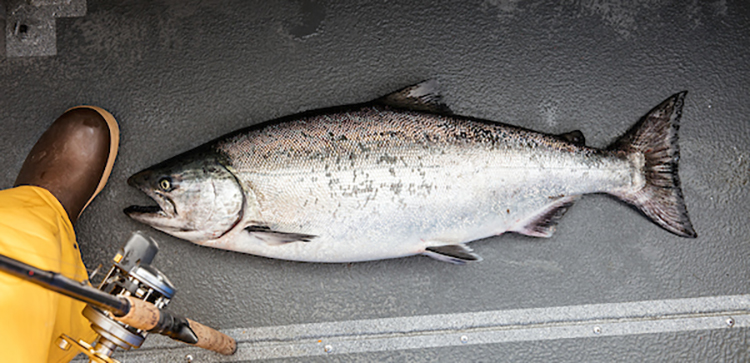 Alaska King Salmon
Where to Salmon Fish in Alaska
Waterfall Resort Alaska, having once been a cannery that provided canned wild king and silver salmon to the WWII troops, is right on established fishing grounds where the wild salmon return each year on their way to spawn.  Prince of Wales Island is part of Alaska's Inside Passage in Southeast Alaska. Here, the nutrient-rich spring runoff from the island's shore combined with the warm ocean currents create ideal habitat for millions of bait fish, which, in turn draw our epic seasonal salmon run Alaska together with Pacific halibut, lingcod, and more than 20 other fish species.
When is the Best Salmon Fishing Season
For us, being in the southeast just above Canada, the salmon season Alaska starts is in June. The king salmon run Alaska is in process, and, as a result, the Alaska Department of Fish and Game (ADFG) may set higher limits for sport fishing Chinook, king salmon during June and into early July. Each year, the salmon fishing report and limits change depending on what analysts in Alaska see from the commercial fishing data.  It helps anticipate the numbers and sizes of king salmon over the coming summer of king salmon sport-fishing. For us, the Alaska king salmon season is all summer. In 2019, our largest king salmon in our King of King Salmon Tournament was caught in August. King salmon sizes vary from mid 20 pounds to 60 pounds and sometimes larger.
Silver, Coho, salmon run Alaska all summer, too.  The Alaska salmon season for all species is in high gear June through August.  Silver salmon have a milder taste and average 7 to 11 pounds with some as large as 16 pounds. Although smaller, limits set by ADFG typically are much higher, as many as 10 a day, and they are fun to catch. They tend to be aerial and will often jump out of the water during the fight.
How to Fish for Salmon
You're not alone when you're fishing at Waterfall Resort Alaska. Our expert fishing guides know where to fish for salmon and will take you to tried and true silver and king salmon fishing spots. If you're not a seasoned angler, they will share salmon fishing tips, their knowledge and experience to help you have the best salmon fishing in Alaska the first time.
If you want to know how to catch salmon, our guides will teach you. One of the best and most common salmon fishing techniques is called mooching. Before you arrive, you may want to take a look at this article that one of our head guides wrote "The Art of Mooching."
The first day you arrive, you're on one of our customized fleet boats with top-of-the-line salmon fishing gear, salmon fishing lures and salmon bait. The guide will ask which you want to catch first, Chinook king salmon or Coho silver salmon, and set out from there to the best spots to catch salmon. Once you hit your limit, you may want to fish for Alaska Pacific halibut (link to Halibut page), lingcod and more.  All the professional gear, bait and expert help is provided on our customized and comfortable boats.
Join us for some of the best salmon fishing worldwide.

Salmon Fishing Bait