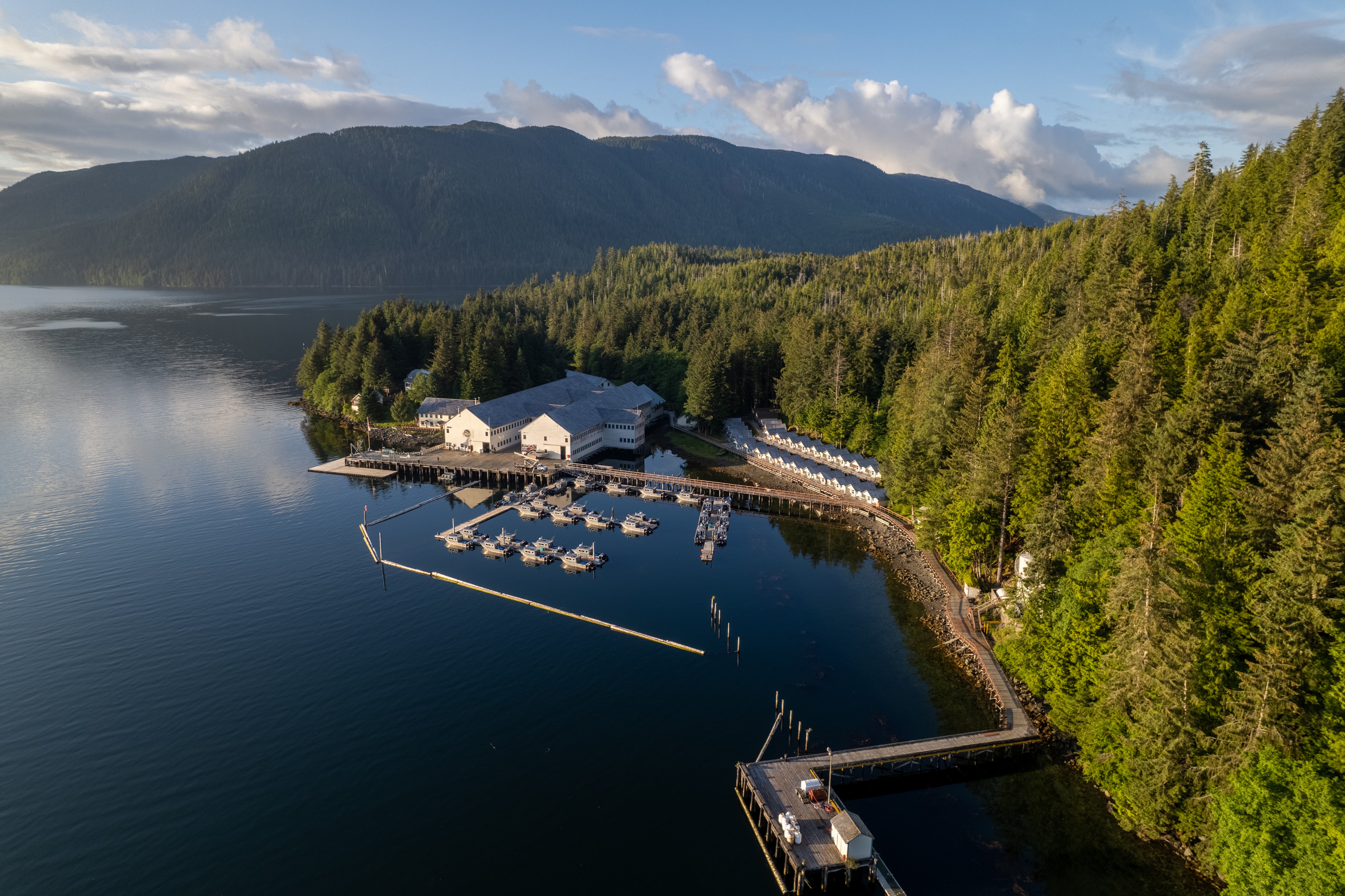 FISH STORY
Your 2024 Alaska Fishing Trip
If you've been waiting for that perfect moment to book an Alaskan fishing trip, then NOW is the time.  Each year our season fills up quickly, so make sure you reach out to let us know your preferred dates.
Why book early? Booking in advance allows us to have detailed discussions with you about the specifics of your Alaskan fishing trip. It also gives us the opportunity to personalize your experience for special occasions like father-son getaways, anniversary celebrations, retirements, graduations, birthdays, or simply planning around your work schedule.
Here are a few things to consider when choosing an Alaskan fishing lodge and deciding which is best for you.
Is the fishing ocean or inland? 

Fishing in Alaska provides a number of fishing experiences – everything from fly-fishing rivers to deep ocean fishing.  At Waterfall Resort, we provide ocean fishing in some of the most fertile waters in the world.  Our 52-acre property is surrounded by the Tongass National Forest on our 2,770-square-mile island's craggy west coast. Here, nutrient-rich spring runoff and a confluence of ocean currents attract millions of bait fish, which in turn feed vast populations of halibut, lingcod, and rockfish—as well as the extraordinary annual returns of king and silver salmon. 
The advantage of ocean fishing in addition to the variety of fish is the variety of fishing experiences – deep ocean a couple of miles out to bay and close to shore fishing and everything in between.
What's the best month to fish for King salmon? 
We highly recommend joining us in June if you're looking to reel in a huge Alaska King salmon. Alaska's pristine waters are teeming with King Salmon during the month of June, when seasonal limits are normally higher, offering anglers an unparalleled opportunity to reel in these magnificent fish. The combination of the longer daylight hours and the salmon's migration patterns make it the perfect time to embark on a fishing adventure you won't soon forget, not to mention it's the best rate of the season. Check out our 2024 rates calendar and fishing chart for more details. 
What is required in terms of gear?
At Waterfall Resort, we provide all the gear.  You need not weather the expense or worry of flying with any gear of your own.  You step onto a comfortable, 26-foot North River Sounders boat ready with all the bait, tackle, and all-weather gear you may need while fishing with us, including:
Berkley and G. Loomis rods
Shimano Tekota-A 500LC reels
Maxima fishing line, Eagle Claw hooks
Helly Hansen bib overalls and hooded jackets
XtraTuf waterproof neoprene boots
Who are the fishing guides?
Collectively our crew of U.S. Coast Guard licensed guides share well over 200 years of guiding wild Alaska fishing trips. And they work together, with more eyes on the water to put you on the bite. Upon arrival, you're assigned a boat and guide for the duration of your stay. We fish four to a boat and all our guides are trained in working with guests of any skill level.
What are the boats like? 
Our custom North River Sounder boats are built for safety, performance, comfort, and convenience. All feature heated cabins, air-suspension seats, private heads, powerful fuel-injected Mercury outboards, and a full complement of Furuno marine electronics, not to mention the microwave ovens for a warm lunch while fishing made to your liking by our Waterfall Resort chef.
What else can be expected?
Not surprisingly, such a thriving ocean habitat supports jaw-dropping wildlife. At Waterfall Resort, not only do we share our coast with vast populations of fish, humpback whales, orcas, otters, crabs, starfish, murrelets, and puffins, but we also share our densely wooded acres with black bears, bald eagles, bats, minks, Sitka black-tailed deer, and more.
While fishing, guests often see humpback whales breaching quite close to the boat although Alaska Fish and Wildlife forbids boats moving closer than 100 yards.  Orca pods have also been known to appear close to our boats.  
Bald eagles work in congresses of huge numbers to spot bait-balls and will fish alongside the boat.  Otters loll in the wake of you passing boat.  Puffins may be seen, too.  Simply inform your guide as to what you'd like to see and your priorities as to what you'd like to land – halibut, salmon, lingcod or rockfish.  The total experience is rich in wildlife and delicious fish to take home.
What are accommodations and food like?
After an exciting day of wild Alaska sport fishing, relaxing in comfort and enjoying good food is all a part of the experience.  Waterfall Resort's inviting accommodations include oceanfront Lodge Rooms, historic Boardwalk Cabins, executive-style Egg House Suites, and family-size Tongass Townhouses.  And every room and suite is within walking distance (or a courtesy golf-cart ride) of the docks, Dining Room and Lagoon Saloon.
After a day or afternoon on the water, the Lagoon Saloon is the lively gathering place for guests and crew alike, and the Dining Room offers views of the docks and Ulloa Channel. Guests often give our chef high marks for meals including hot breakfasts and nightly buffet feasts that showcase fresh Alaska seafood (salmon, halibut, spot shrimp, Dungeness crab) and select Pacific Coast wines.
What is there to do onshore after fishing?
In addition to the Lagoon Saloon at Waterfall Resort, for golf enthusiasts, there's the challenge of driving a 165-yard golf shot over the saltwater lagoon to a small green where our local black bears and deer often enjoy grazing.  For our nature and photography enthusiasts, a mile-long walk to our waterfall features more bears, deer, the beauty of the Tongass forest and spectacular sunsets.  Remember there's a midnight sun during Waterfall Resort's summer fishing season so you'll have plenty of time to work off that delicious dinner before settling in to rest for tomorrow's fishing.
What does the total cost include?
Our packages are all-inclusive: 
Comfortable accommodations,
3 delicious meals a day,
4 guests to a boat with an expert guide,
Professional fishing gear
All-weather coat, overalls and boots,
Comfortable, custom-built boats
We clean, cut, fast-freeze and box your fish plus transport it to Alaska Airlines for you to check it with your luggage and board the plane home.
The beauty, the bald eagles, humpback whales, Orca, incredible wildlife and wilderness, the light, sunsets and sunrises, the colors and even the sea spray and smell… it's all part of the indelible memories that Alaska creates for each and every guest. 
Contact us to arrange the perfect Alaskan fishing trip for you.
Let's go fishing!