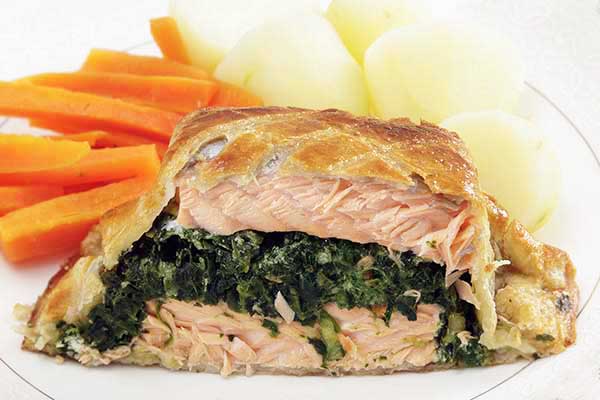 CHEF MEAGAN RECIPE
King Fillets In Puff Pastry
If you're a dedicated king salmon angler with an arsenal of killer recipes, I'm betting you've roasted, broiled, and braised your fillets; you've no doubt poached, pan-seared, and grilled them; maybe sautéed or even flambéed them. So it's time to cook your next fillet en croute—sealed and baked in flaky puff pastry. My favorite recipe for this showy technique is King Salmon Wellington—a delicious en croute crowd pleaser layered with spinach and Dungeness crab, and delicately seasoned with lemon, cloves, and shallots.
When you find out just how easy it is to cook kings this way, it just may become a holiday tradition. And if you really want to impress your family and friends, try forming the pastry into a salmon shape, complete with tail, scales, fins, and fish lips (also a handy way to get the kids to eat their spinach...).
Be sure to cut vents in the pastry before baking, so it doesn't explode. Serve piping hot with roasted carrots and potatoes, and pair with something bubbly like a sparkling rosé or Champagne.