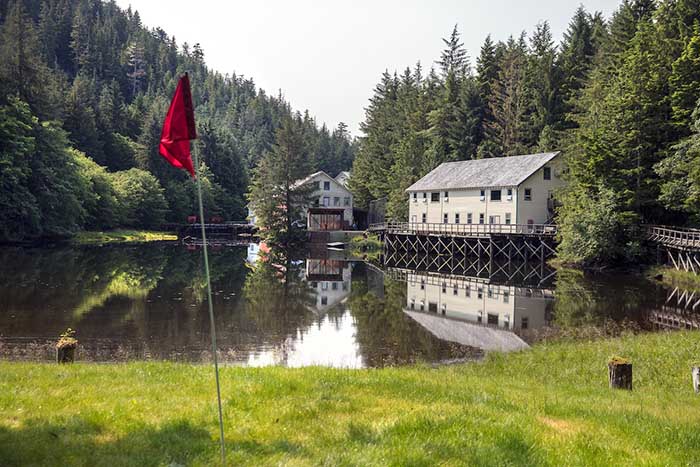 NO MULLIGANS
Double Take On the Green
We have a new record for our 165-yard, overwater par-3 golf hole. The Fourth Annual Great Alaska Tee Off on June 25–28 saw first-time guest Thomas Gauthreaux of Baton Rouge, Louisiana, pick up a six iron and, in one fell swoop, drive his ball over our saltwater lagoon to within an impressive two feet of the pin. With that, Gauthreaux won the 2019 contest, scored a return trip to Waterfall in 2020, and beat the previous record by a solid four feet, six inches.
Also unprecedented, a single contender took both second and third place. That was none other than repeat guest Vince Sweeney of Chicago, Illinois, who put his golf chops to the test—first going way long, then coming within 11 feet, six inches of the hole and, on his third attempt, landing exactly one inch closer than his previous one. Talk about consistency. The latter two feats landed Sweeney gift certificates for merchandise at our General Store.
Congratulations to our two winners. Ready to give it your best shot? Next year's Tee Off runs June 18–21, coinciding with the U.S. Open.