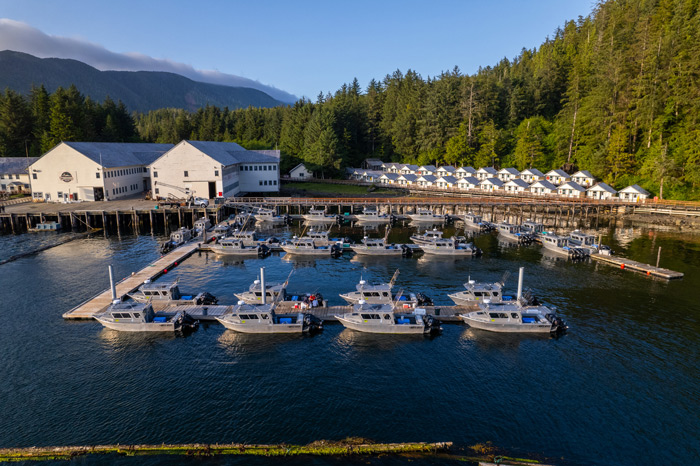 FROM THE GENERAL MANAGER
Fully Renovated Cabins for 2023
This winter, an extra project occupies Babe and his team. Thirteen guest cabins overlooking the boat docks are being remodeled. This project will install heated floors, queen size beds, and new fixtures. Unlike the two new cabins finished for the 2022 season, one of which was ADA, these 13 remodeled cabins will have bench chests at the foot of the bed rather than an armoire. Relax, either inside or out, and take in the beauty of a midnight Alaskan sunset after a full day of fishing, a delicious meal, walk to the waterfall and drinks with friends at the Lagoon Saloon!
In addition to remodeling cabins, the winterizing process at Waterfall Resort has been initiated, too. Winterizing involves moving all the boats and all outdoor equipment into the warehouses. We close the dining hall and move cooking and meal prep for the skeletal crew into the main lodge where the general store is. We deep clean all the rooms of the entire resort, winterize buildings and shut off utilities. Even the waterpipes from the waterfall are drained.
The breakwater and extra airplane docks are disconnected and taken to a warehouse for extra protection from the elements, too, along with nearly everything at the resort — signage, linens, lamps, cutlery, barware, even wall décor. Major projects take over after that – piling caps replaced, railings repaired and more. 
In Spring, when bears are coming out of hibernation, we reverse the whole process to prepare for a new season.  Already we're looking forward to sharing the same great experience of fishing in Alaska this summer 2023 and showing off our new and remodeled cabins. We hope you can join us!
Let's Go Fishing!