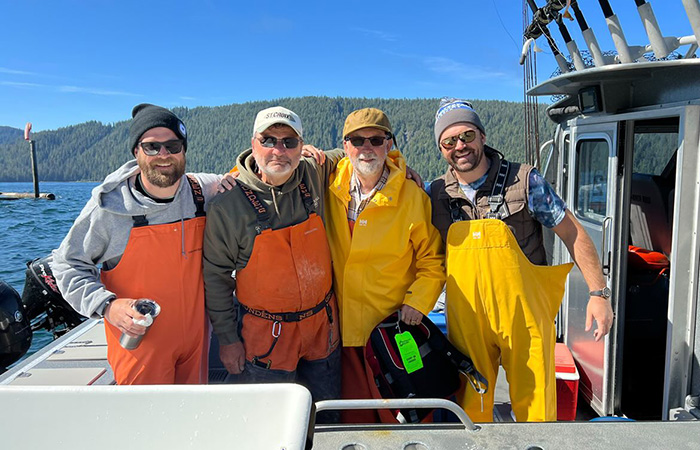 FISH STORY
Extending our 2023 Season
Is there anyone who doubts the adventure of Alaska? It checks all the boxes for beauty, excitement, reward, and the escape from daily stresses.  Get away from TV and electronics to be immersed in an all-encompassing encounter with the ocean and fishing in Alaska. It's a sensory experience that involves all the senses – smell, sight, hearing, tasting and feeling.
In fact, with clear need for folks to travel again, we've experienced demand that allows us to extend our fishing season to include early June and early September. Have you been waiting for the perfect time to experience fishing in Alaska when prices are a bit better? Act now because the dates won't last. Experience that bucket-list trip you've been waiting for this 2023 summer. 
And if you're wondering about the fishing, here are a couple of groups, one group first-time visitors and one return guests, who came at the beginning and end of the past season. Regardless of age and expertise, the great memories are plentiful. If you're curious about the fish caught, take a look at our fish chart.  The limit for king salmon is currently THREE for June. Halibut, lingcod and numerous rockfish are plentiful all summer.
The Wooldridge Family, June trip:
Fishing in Alaska was a first for the Wooldridges even though they had enjoyed fishing and hunting in Canada more than once. When it came to deciding where to celebrate Dad's 70th birthday together with his 40th anniversary, son Britt was the one who encouraged the choice of Waterfall Resort following the recommendation of a friend. Although they considered a lodge that uses down riggers to fish, ultimately, they recognized that mooching, the method used for fishing at Waterfall, would be more fun and active. They chose dates in June.
Of the king salmon landed, one had a particularly exciting story. Dad (Craig) had a fish on that kept going down and under the boat. About 60 yards away, an Orca surfaced, clearly eying the activity of the fish on the line.
"Land that fish now!" directed Doc, the Captain and Waterfall guide. Craig used every ounce of strength to bring in the biggest king salmon of the trip.
"It was definitely a bucket list trip for us," shares Britt.
Adam, Britt's brother, continues that thought, "We shared such a wonderful, memorable trip and really connected with the Captain. I'll never forget our time there. I'm having a son soon and can't wait to do a trip back when he is of age!"
The Sauer Family, August trip:
Paul Sauer is not new to Waterfall Resort having visited 5 times, 3 with his company in the 1990s and two more since then. In 2010, he brought his 3 sons and this time his 2 sons, a son-in-law and 2 grandsons, aged 13 and 16. 
"The young boys, they really love golf so they disappeared to the golf drive each night to pick up balls and test their skills driving across the lagoon while we enjoyed the Lagoon Saloon after dinner and walks to the waterfall."
Their family crew of 6 were joined by Merle Ihne and Lois Hughes, both active and close to 80, to round out the two boats of 4 each. Merle and Lois were first time guests who knew how good the area is for fishing.
"I just wanted to be fishing all the time," shares Lois. "Plus, the promise was to see a whale and that happened up close!"
Avid birders, too, Lois and Merle were pleased to see a puffin along with all the other wildlife.
"All in all," shares Merle, "we took home lots of fish plus had great meals there and enjoyed our boat mates, the Sauers."
Waterfall Resort welcomes all guests, regardless of age. Our whole crew enjoys seeing the new friendships forged whether with guides, crew or between guests. Thank you all for sharing the beauty and adventure of Alaska with us!
Let's Go Fishing!