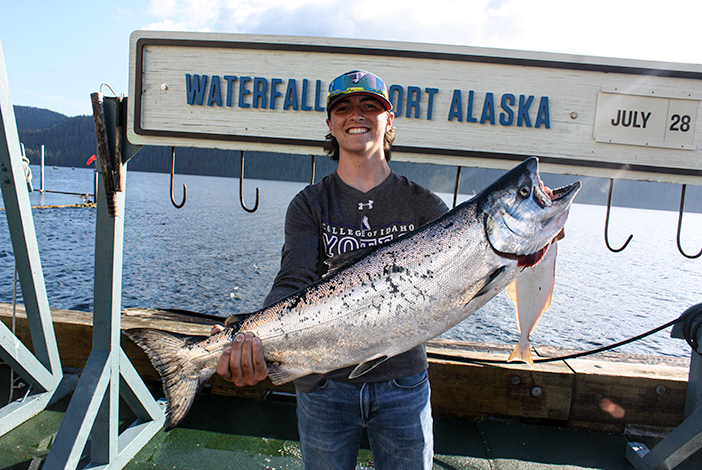 How to Fish for King Salmon in Alaska
We welcome anglers of all skill levels, from first-timers to seasoned pros, and we're committed to making every guest's stay with us their best fishing trip yet. Keys to our success are our custom fleet and top-of-the-line gear, the scale of our operation, our storied location, and, highly important, expert guides
One of our beloved guides, Everett Athorp, wrote an article on How we Fish for King Salmon in Alaska. This downloadable pdf dives into the art of mooching, the fishing technique used at Waterfall Resort.  
"After 30 years as a guide, here are a few tips about mooching for king salmon. Mooching looks easy, but it's an art form and not an exact science."
Download How we Fish for King Salmon at Waterfall Resort
Everett brilliantly breaks down how salmon react to bait, what movements they are intrigued by, and how to make sure you've not only hooked, but reeled in your very own king salmon. We have many guests with zero fishing experience that start hooking fish right away thanks to the wealth of knowledge and friendly assistance our fishing guides provide. 
"Catching your first king salmon is a memorable occasion whether it's
the first for the season or the first in
your life. As a guide, I never tire of watching the thrill my guests
express holding that fish. It's a
triumph worth the patience and the work." 
Whether you're interested in your first fishing trip or one of our amazing guests we host year after year, this article is a great resource on mooching at Waterfall Resort.