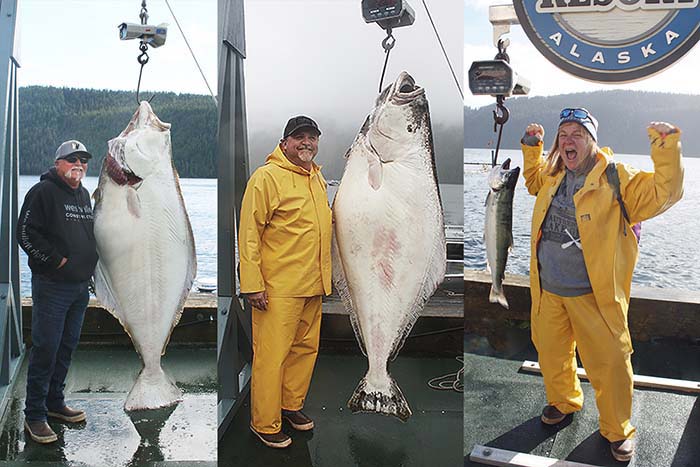 FROM THE GENERAL MANAGER
2018 Halibut and Coho Highlights
Along with all the impressive king catches for our annual King of Kings Salmon Fishing Tournament, we saw some exciting Pacific halibut action this summer, Waterfall Resort's 38th season here in Southeast Alaska.
Brian Kennedy (above, center) of Long Beach, California, shot to the number one spot on the halibut leaderboard on July 16, when he boated a 222.8-pounder. Lance Shufelberger (above, left) of Anderson, California, came in second with his 205.4-pound catch on August 7. And Waterfall Resort's own Ken Dole, Waterfall Group president, landed in third place on August 18 with a 178.8-pounder. Other notable showings on the halibut front included Don Bessire of Hamilton, Montana, with a 149-pound fish on August 6; Jeff Pepper of Lodi, California, with a 141.6-pounder on July 17; and Drew Christy of Minnetonka, Minnesota, with a 122-pounder on July 23.
If you're keen on halibut fishing for 2019, you'll want to look into our Bonus Halibut Tag program, which allows anglers to take home an extra halibut of any size, per tag per day.
As for silvers, this year saw a jubilant Kathy Barry (above, right) of Lansing, Kansas, take both Silver of the Month for August and Top Silver of the Season with her 13.3-pound coho. Barry landed that beauty on August 15. Caught the same day to take the number two slot: the 13.1-pound silver reeled in by Sean Miller of Maple Grove, Minnesota. And Joe Quigley of Maitland, Florida, took third with a 12.9-pounder caught on August 18, at the tail end of the season—which once again goes to show that we have great fishing here all summer long.
A hearty congratulations to all!