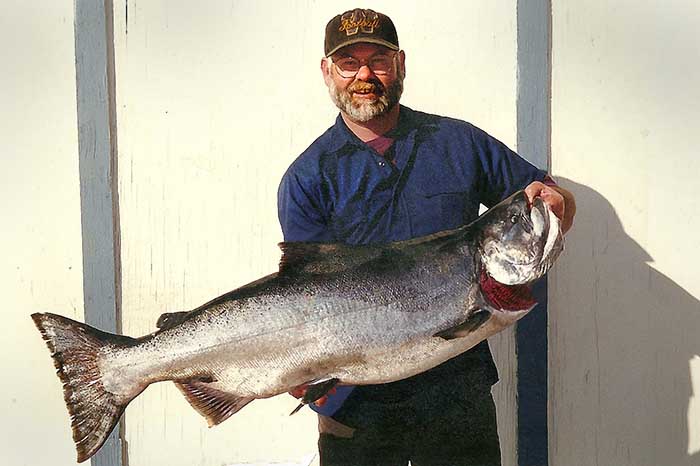 FROM THE GENERAL MANAGER
Introducing Our New Head Guide
It's my great pleasure to announce Dennis Evans as our new head guide, pictured above with a 58.5-pound king—his personal best—caught at nearby Cape Ulitka a decade ago. A 15-season Waterfall Resort veteran, Evans has also guided at our sister property, Steamboat Bay Fishing Club, and worked as a captain in California and the Gulf of Mexico.
"I had no trepidation about accepting the position," says Evans. "I like the boats, I like the water, and I like to catch fish. And the guides here, they all know how to fish. So many of them have so many years with Waterfall—some have 20-plus. That makes the head guide job a lot easier."
Evans first came to Waterfall in 1997, working under then head guide Wayne Leong. It was Leong, he says, who taught him that comfort comes before fishing. "Wayne told us, 'Always make sure your people are comfortable—with the weather, with the conditions.' Alaska weather can be radical. The main thing is to tailor the trip to the guest, and not the other way around."
Evans grew up in California and loved to fish from an early age. As a teenager he mowed lawns to pay for fishing trips and became a deckhand so he didn't have to mow lawns. Soon enough, he had his captain's license, working boats out of Morro Bay. When he got his own boat, he operated out of Ventura. He also spent a decade running a 170-foot supply boat to oil rigs in the Gulf of Mexico. Along the way, Evans learned to salmon fish in Alaska, where he met his wife. When the couple settled in Anacortes, Washington, he took on a job as a school bus driver, a gig that dovetailed perfectly with Waterfall's fishing season.
"What sets Waterfall apart is its location and that it runs correctly—it's the smoothest sport-fishing operation I've seen," Evans says. "There are so many employees. From when guests fly in to when they fly out, it runs like a machine."
Evans will be taking over for Mitch Carroll, who spent a total of 13 seasons with us, two of them as head guide. Among the highlights of his tenure was guiding astronaut Neil Armstrong during a trip to commemorate the first walk on the moon. "Armstrong caught his very first saltwater king salmon here in 2010," Carroll recalls. "It was a 45.5-pounder at Pineapple."
Carroll is now happily heading into a retirement aimed at new adventures, travel, and, of course, fishing.
"In my time at Waterfall I made lifelong friends—both with crew and guests—and I want to thank all of my guide buddies for everything they taught me over the years," Carroll says. "I also want to congratulate Captain Dennis. I know he'll be an awesome head guide."