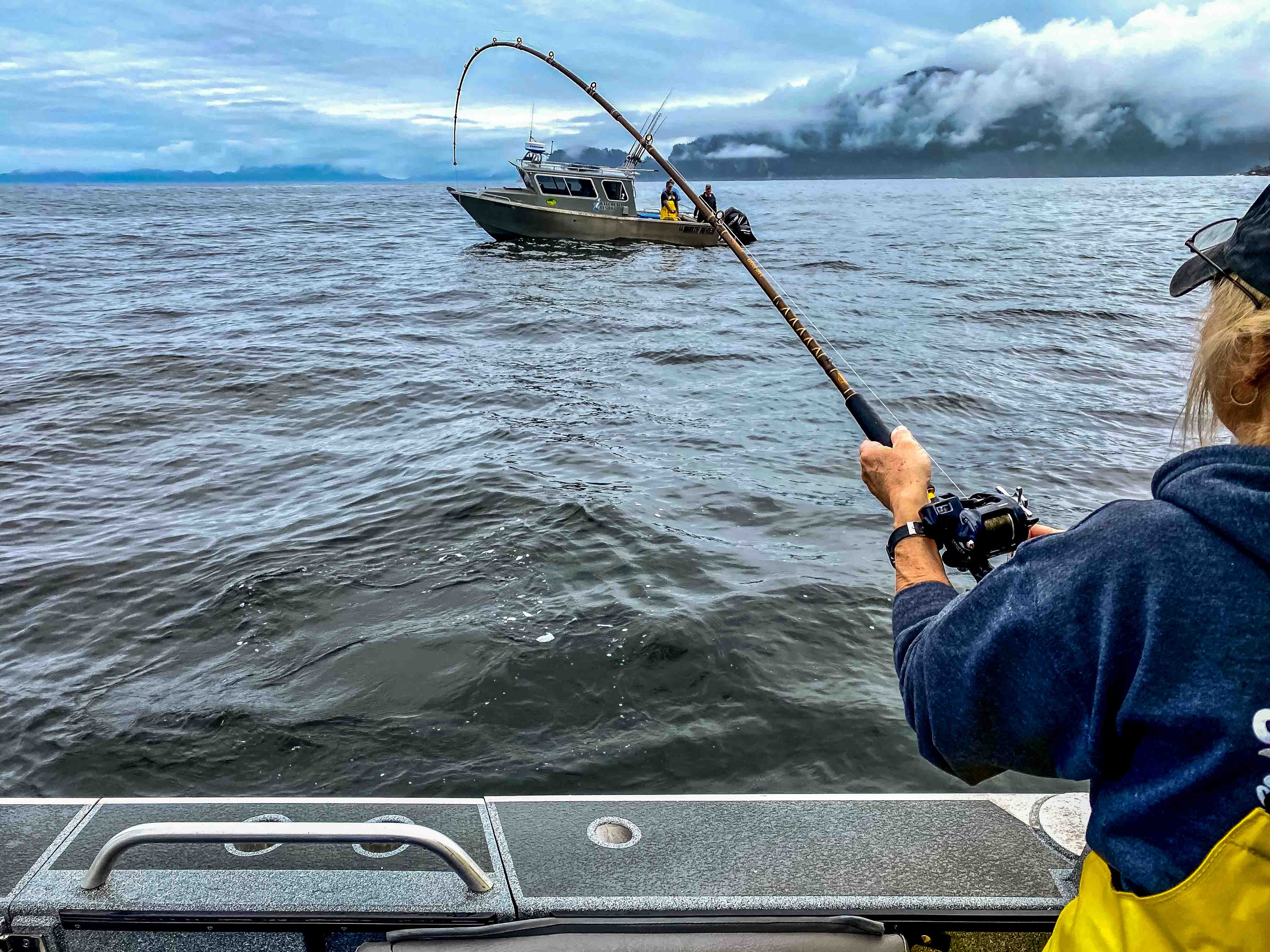 FROM EVERETT ATHORP, FISHNG GUIDE
All You Need to Know About Fishing at Waterfall Resort
You are finally doing it. You're flying to Southeast Alaska this summer for an unforgettable fishing adventure. You're ready for the seaspray in your face! To watch an eagle soar! To conquer the North, to quote Jack London!
Before you can regale friends with your battle with the great king salmon, you have to catch one first. Our 40 years in the prime waters off the shore of Ketchikan has taught us that successful salmon fishing is a delicate balance of art and science. The art is what we are here to teach.
Waterfall Resort has everything you need for a successful few days on the water.
Location. As much as we would like to take credit for the fertile waters surrounding Prince of Wales Island, we owe it all to Mother Nature. These near perfect fishing grounds are the result of nutrient-rich runoff meeting temperate ocean currents, creating the ideal conditions for an explosion of life each season. Marine species from crustaceans to whales descend on this Disneyland for sea life every year, rubbing elbows with the party's most popular guests: Halibut, Lingcod, Coho, and Chinook.
Gear. Without a doubt, Waterfall Resort's boats are the most impressive pieces of equipment on the water. The fleet is made up of 26-foot North River Sounders built for safety, performance, comfort, and convenience. All feature heated cabins, air-suspension seats, private heads, powerful fuel-injected Mercury outboards, and a full complement of Furuno marine electronics. You will also have all the bait, tackle, and all-weather gear to set you up for major success, including:
Berkeley and G.Loomis rods

Shimano Tekota-A 500LC reels

Maxima fishing line & Eagle Claw hooks

Helly Hansen bib overalls and hooded jackets

XtraTuf waterproof neoprene boots
Guides. Waterfall Resort's guides are all U.S. Coast Guard licensed for maximum safety on the water. They are passionate about their work and love seeing new and returning guests reel in the next big catch. With over 200 collective years of professional angling experience in our crew, they are the preeminent experts on finding the fish and putting you on the bite.
Mooching. Legend has it that this technique derived its name from 1920's Seattle when a new style of salmon fishing was introduced that was so successful other anglers in the area "mooched" the leftover cut-plug herring bait with the hope of the same success. They also learned that mooching is as much about finesse as it is about the bait.
For seasoned Alaska anglers, you might be familiar with trolling for salmon. This is where a fishing line is clipped to a downrigger cable set to a certain depth and you watch your rod in a holder while the boat trolls the waters waiting for a bite. Salmon have a specific bite that isn't nearly as aggressive as some other larger species of fish, like a yellowtail or marlin. Without having your hands on the rod to read these more delicate indications a fish is on your bait, you are leaving fish in the water. Trolling can also just be flat out boring.
Mooching is a very hands-on style of fishing. No sitting staring at a floater or watching for a tug on your downrigger line for hours. Designed specifically for the most natural "presentation" of the salmon's natural food source, it's fun to learn and thrilling to master. And first timers, no need to fret, with our 4-to-1 guest to guide ratio on each boat, an expert will be there to help you master the art in no time.
It's all about depth, speed, the quality of bait and presentation:
With the help of Waterfall's sonar fish finders on board, your guide has the experience to know where the salmon are sitting and the ideal depth to drop your line.

Salmon love tight and fast-spinning bait, and Waterfall Resort's guides are there to help you find a winning tempo.

Good quality bait is key. Waterfall uses premium cut-plug herring - a salmon's favorite treat! Your guide knows how to tie the bait, sinker and leader for the best possible presentation.
The details:
When you put your bait in the water, make sure your leader is straight and that your bait is behind your sinker to avoid tangling on the way down. (A "leader" is a 7 foot length of line that is stiffer and tougher than your main fishing line. Its purpose is to protect the more delicate fishing line from snagging and breaking, while also reducing line visibility to make your bait more attractive to fish.) Drop your bait down a little past that depth that the fish are on the finder and then reel up through the fish. You're going to move the spinning bait up and down as you reel in, presenting your bait to the fish. Create a soft "Stop and Go" motion for the first 10 or 15 feet. Then, keeping your thumb on the spool so it doesn't "backlash", drop it smoothly to the approximate depth of the fish.
Finding the right speed can be a bit tricky! It can vary depending on the weather, the mood of the fish, and the angler's tempo. This is also a part of the fun! It feels a bit like teaching a new driver how to use a stick shift. "I'll reel, like I'm stepping on the gas, then let off, then step on the gas again, sometimes flooring it, and then slam on the brakes and floor it again," says Everett Athorp, one of Waterfall's lead guides. Regardless of the speed you choose, bring the line and bait up completely after 5 to 10 times to check your bait. However, if it looks good when you can see it still in the water, drop it right back down. A lot of times, the salmon will chase it to the top, and if you pull your bait out, they will swim away.
When you get a bite, it may feel like nothing, a little "tap tap", or like you just hit bottom. It just feels different. Salmon can nibble or jab at the bait rather than suddenly taking it. When you think you have a bite, the golden rule is "crank don't yank." Unlike other styles of fishing, you don't pull up on the rod to "set" the hook. Instead, wait a moment to confirm the bite. Then, reel quickly and consistently and you will know when the fish is on!
Catching your first King Salmon is a memorable occasion, whether it's the first for the season or the first in your life. As guides, we never tire of watching the thrill my guests express holding that fish. It's a triumph worth the patience and the work.
Best thing to remember is to have patience; don't give up and have fun!
Let's go fishing!