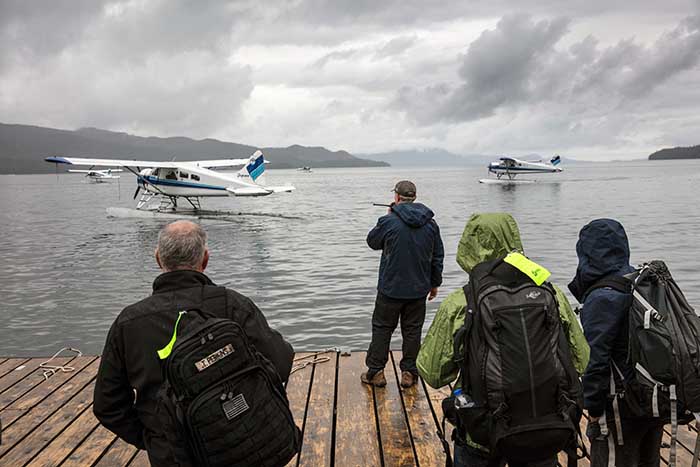 FROM THE GENERAL MANAGER
Packing Tips From the Pros
When it comes to packing, you won't need mosquito repellent or bear mace here. Our repeat guests know we have no grizzlies on Prince of Wales Island, and our resident black bears keep to themselves as long as you keep to yours. Moreover, I can't remember when I last saw a mosquito. The bigger threat in Southeast Alaska? Sunburn. Which is why sunscreen, sunglasses, and sun hats rank highest among our guest's packing tips.
"I always pack good glare-reducing sunglasses," says Kathy Barry, of Lansing, Kansas, winner of our 2018 tournament's Top Silver of the Season. Barry's top tips also include fishing gloves and a brimmed hat. Southeast Alaska sees summer temperatures from 50 to 70 degrees F with occasional showers—along with some 18 hours of daylight.
Of course, we shield our guests from the elements by providing all-weather gear that includes bib overalls, a hooded jacket, and waterproof boots. But even when it's overcast, the sun here is deceptively strong.
"Definitely pack sunscreen and a hat," advises our 2018 Grand Prize winner, Pat Frazier of McKinney Texas. "I also like a light jacket and clothing you can layer." For her first trip to Waterfall, Frazier found comfort in sunglasses, the bib overalls, and flip-flops. She brought a raincoat but didn't use it; she also brought a Kindle for the boat, but never touched it. "I was too busy pulling in fish!" she says.
Rod Fogle of Colville, Washington, 2018's July King of Month, swears by a brimmed hat and glasses with lenses that darken in sunlight. "Otherwise, bring a good pair of polarized." A big believer in traveling light, Fogle packs just a pair of sweats, jeans, and a few shirts in one carry-on. "I like to bring home two boxes of fish—without paying extra baggage fees," he notes.
And then there's Tony Perkins (above, left), our 2018 King of Kings, a creature of comfort who prefers just the opposite. "I probably bring too many clothes," he admits. "I like one set just for fishing, and one or two sets for after fishing. I like layering up—one year all I needed was a T-shirt; the next year, I couldn't take my jacket off." In addition, Perkins brings a stocking cap and earbuds.
"I sit in the back of the boat, listening to music between fishing spots," he says. As for sunglasses, he won't leave home without 'em. "Wraparounds with a neck strap, so they don't fall in the ocean!"
Check out our Packing List for more on what to bring to Waterfall Resort.