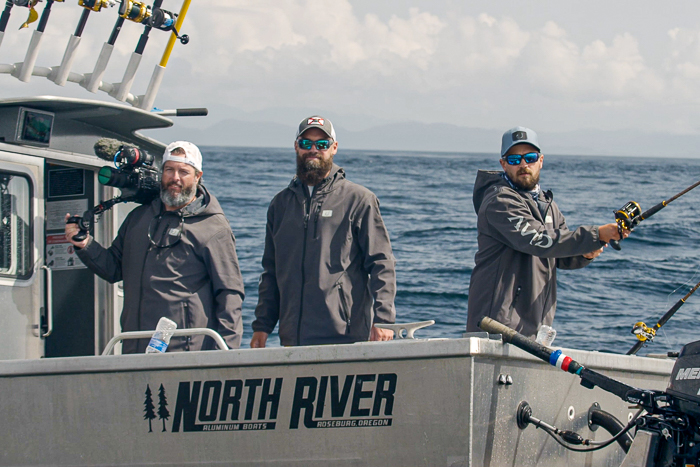 FISH STORY
Catch Us on TV
We have two debuts coming up the first week of April:
Yes, NBC's Kelly Clarkson, one of the top talk shows internationally. It's rated the #3 Daytime talk show in the world averaging 1.9M viewers daily on-air!  They just won the 2021 Emmy Award for Outstanding Entertainment Talk Show, beating out daytime veteran Ellen DeGeneres.  In their 3rd season, the past 2 years Kelly Clarkson has won Emmy Awards as talk show host.
So how did we get on the show?  Kelly interviews two brothers who did not know each other existed and crossed paths discovering they were brothers.  Kelly loves Alaska and the two brothers love fishing, so what could be more natural to surprise them?  The network decided to award Ed and Randy Waites trips to Waterfall Resort Alaska!  They will be bringing their sons to fish Alaska with us this season.
SFTV, if you remember, premiered Waterfall Resort last year on the Discovery Channel.  They had such fun that they decided to return only to Steamboat Bay Fishing Club, our sister luxury resort on Noyes Island. 
Capt. Bryan "Bear" Holeman from Key West accompanied Shawn Bean, Executive Director, and his crew.  You may recognize that name from Bear Fishing Charters, a family-owned business with over 40 years of experience, similar to our own head guide Everett but on opposite corners of the US! 
"We had a great time at Steamboat Bay with Bear," shares Shawn Bean, Director of the show.  "Bear loved getting to know your head guide Everett and fishing with him. He even ended up purchasing some of his form-line-design Native art."
Everett, a native Haida with Alaskan fishing experience that is lifelong, is also an artist whose artwork is featured in our lodge.  He's been a fishing guide with the Waterfall Group since our beginning, and this year is Waterfall Resort's 40th anniversary.
Set you viewing calendars for April 2, for the Discovery Channel's SFTV and April 4 for the Kelly Clarkson Show.  We'll see you there!
Let's go fishing!