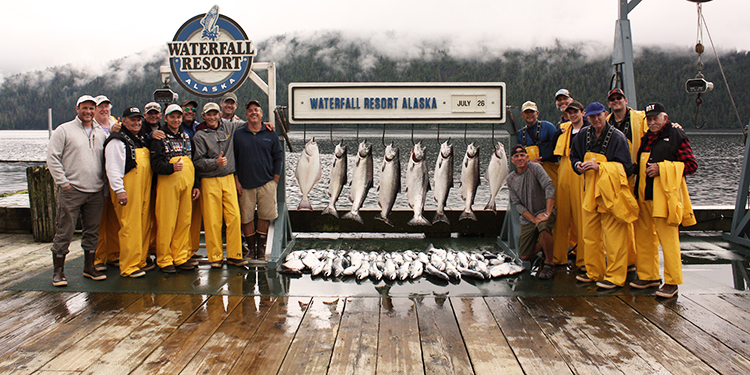 FROM THE GENERAL MANAGER
Increased King Salmon Limit
The Department of Fish and Game announced an increase in king salmon limits specific to Waterfall Resort's area, Prince of Wales Island in Southeast Alaska.  Due to reduced sport fishing related to COVID-19, the harvest of king salmon is expected to be significantly below the Southeast Alaska sport fishery king salmon allocation. The original nonresident limit for July and August was 1 king daily with a 1 king annual possession limit, per guest. The new 2020 king salmon limit is 1 king daily with a 4 king salmon annual possession limit, meaning most guests can look forward to keeping a hefty king salmon each day they're out fishing.  
And just a reminder, at Waterfall Resort, fish processing is complimentary, and guests leave all the cleaning, cutting, and fish-box packing to our crew of on-property experts.
Last year's King of King tournament winner landed a 58.3 pound king salmon. The 2019 average size of the daily tournament winner was 28 pounds. We are looking forward to a larger average this year due to both positive reports by commercial vessels, and reduced pressure on the fishery overall.
In case you missed it, the lower slot limit for halibut increased from 40 (29 pounds) to 45 inches (42 pounds). Weights are approximate. While silver (Coho) salmon limits have remained strong at 6 per day with no annual limit.
With only a few dates still available, we're excited for another busy season at Waterfall Resort.