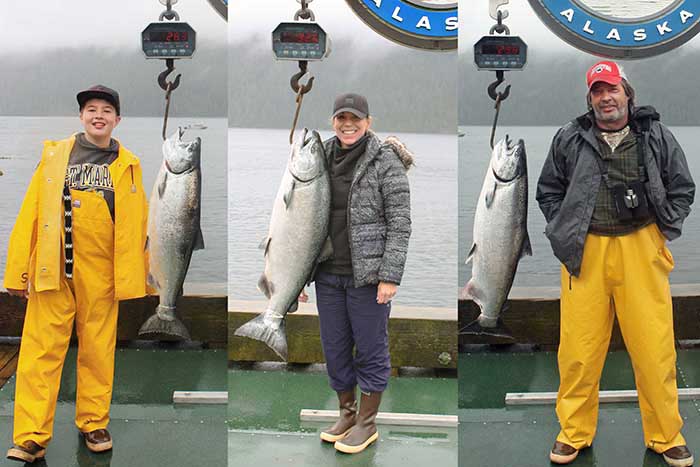 FISH STORY
Staking Out the Jackpot
There was plenty of action for the King Salmon Jackpot Challenge on June 15 and 16. Among this year's top five scorers: Tonya Sibley (above, center) of Woodland, California, took first when she reeled in a 32.6-pound king. "An experience I will always treasure," Sibley notes. Not only was it Sibley's first trip to Alaska and her first stay with us, but also her first time saltwater fishing and her first fishing since she was a kid.
Steve Smith of Priest River, Idaho, came in second with a 30-pounder; Bradley Maunz (above, right) of Van West, Ohio, bagged third with his 29.8-pounder; Chris Schmidt of Medina, Washington, was fourth with a 28-pound fish; and Joe Campbell of Portland, Oregon, took fifth with a 28.3-pounder.
Among other highlights: Benton O'Banion (above, left) of Dallas, Texas, won the "Young Fishers" category for Jackpot Challenge entrants ages 16 and under; John Phillips Sr. of Georgetown, Texas, won the drawing for the Grand Prize, a return trip to Waterfall Resort for the 2020 Challenge; and Steve Smith, our second place winner, also raked in the top winnings in the cash jackpots. A hearty congratulations to all.