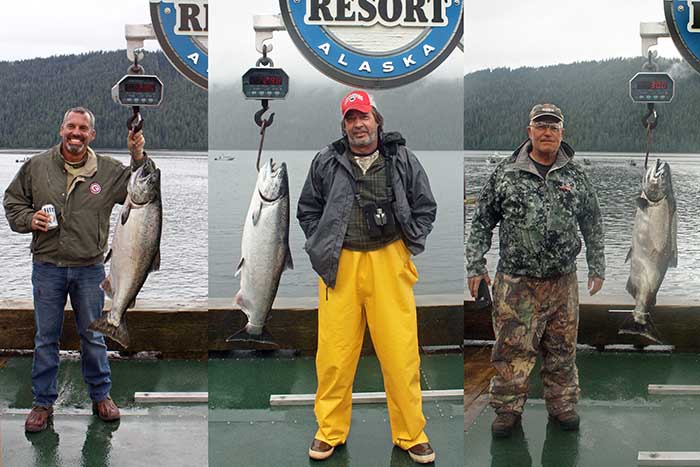 FROM THE GENERAL MANAGER
It's Good to Be King
We're starting off with a bang. So far, it appears that kings are larger and much more plentiful than last year at this time. And Opening Day at Waterfall Resort turned out to be an especially good one for Timothy Nunno (above, left) of Rockledge, Florida. Right off the bat, Nunno caught a 28.4-pound Chinook on June 14 that landed him the official title—our season's first King of the Day. Fortune also struck Bradley Maunz (above, center) of Van Vert, Ohio, who won the title on June 15 with a 29.8-pounder. And Day Three saw Steve Smith, (above, right) a longtime guest from Priest River, Idaho, take the honors with a hefty 30-pounder.
As of this posting, Mike Day of West Fargo, North Dakota, has since taken over the lead with his 36.3-pound king, and the stats continue to grow. Throughout the season, you can watch the leaderboard on our website and ­check out photos of all the tournament winners on the Waterfall Resort Facebook page.
Speaking of Facebook, it's always our aim to provide the best possible experience for our guests. With that in mind, we've set up Facebook Messenger so you can receive daily tournament standings and other updates delivered right to your cell phone before, during, and after your trip. You'll also receive fishing stories by and about our crew, photos taken by our guests, interesting facts about Alaska, newsletter links, and more. Another benefit: With Facebook Messenger, you can contact us with any questions you may have and we'll aim to get back to you within 24 hours. You can sign up here.
Here's to an exciting season ahead!