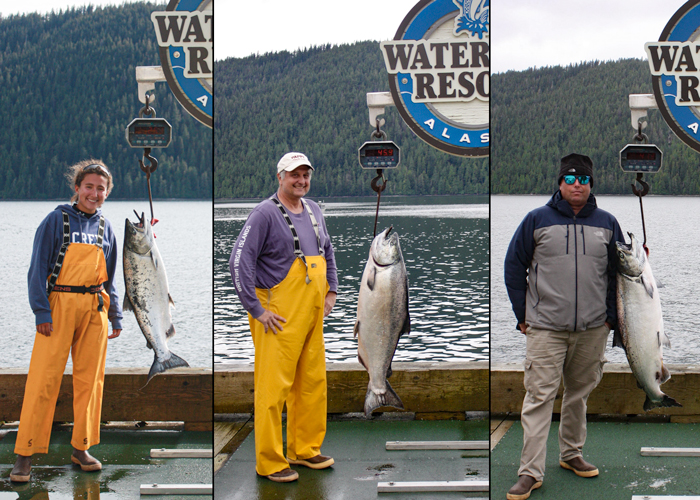 ON PROPERTY
The New Season of Winners
Posted 6/29/2021
The 2021 season is in full swing with guests reeling in big king salmon to win King of the Day in our annual King of Kings Salmon Tournament.  The largest King of the Day, as of July 13th, is a 46-pounder landed by Mark Hallam, a return guest from Prospect, KY.  What's your secret, Mark?
Jerzy Poprawa, who caught last season's largest king, is not far behind with a 41.3 pounder, and Eric Driggers from Bainbridge Island, WA, with his 38.3 lb king salmon round out the top 3 on our leaderboard.
Want to stay up-to-date with the top 10 King of the Day catches? You can follow the tournament leaderboard right here on our website and check out the King of the Day winners on our Facebook page. 
With over a month to go in the season, it's anybody's guess as to who will bag the top prizes in the King of Kings tournament—the return trips to Waterfall, the cash prizes and gift certificates, the new Ford F-150…. We say, good luck to all the entrants. 
And let's not forget silver salmon. Many guests enjoy the "aerial" nature of silver salmon and their delicate taste over kings. Recently, one of our guests returned having only been 9 years old when he first visited.  Keith Hook still holds the record for the largest silver salmon in Alaska, a 22 lb, 33-inch behemoth!  Keith thought it was time to give his own 9-year-old son, Kash, the experience of his life fishing in Alaska.
Let's Go Fishing!
KOD Winners Pictured Above: Jacquelyn Mantione, Mark Hallam, and Jerzy Poprawa.
**The leaderboard and all winners are tentative until verified in August.