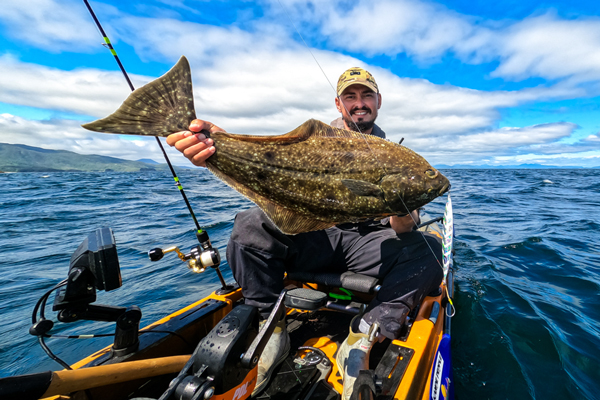 FROM THE GENERAL MANAGER
Kayak Fishing
Waterfall Resort is excited to announce that Adam Fisk and his team (Denes Szakacs and Robwil Valderray) have ventured north from their home waters of South Florida and Panama to test the capabilities of kayaks in our waters at both Waterfall Resort and our sister property, Steamboat Bay Fishing Club. After only a few days at Waterfall Resort, they have landed some impressive catches... all from their kayaks!
According to Adam Fisk of Los Buzos Resort in Panama, "Jumping into a 13-foot kayak to experience one of the top fisheries in the world as captain, mate, and the fisherman, all-in-one, is an unbeatable experience.  You're surrounded by whales, otters, seals and countless other types of wildlife while landing the big fish of your dreams. It all takes on a whole new level of adventure." 
This idea ignited when Adam Shoen, the manager from our sister resort, Steamboat Bay Fishing Club, met up with Adam Fisk down in Panama. Fisk manages and guides for a top fishing lodge, and as an expert guide, puts hundreds of guests on Roosterfish, Cubera snapper, yellowfin tuna, sailfish, broomtail grouper, and so much more, all from kayaks.  He personally holds the top two largest gamefish ever caught from a kayak, both 500+ pound black marlin. 
Met by Guide, Cy Williams, at Waterfall Resort, Adam and his team learned the ropes of fishing in Alaska with a short intro session in the boat. Soon, they were in the kayaks and catching more fish than they ever thought possible. 
Although they found that the preferred, Alaskan  method of mooching works perfectly from kayaks, Adam and his team also successfully tested several other techniques.  In Old Town pedal-drive kayaks that enable the angler to be completely hands free while fishing, just three days at Waterfall produced catches of King Salmon, Silver Salmon, Halibut, Lingcod, true cod, massive yellow eye rockfish (released), black bass, and about 10 more species.
And just wait until to see the size of their catches, it's going to knock your Xtratuf boots right off! Head over to our socials and follow us to be one of the first to see their astonishing feats. 
Facebook • Instagram • Twitter • Linkedin
Interested in kayak fishing in Alaska? Let us know! While we don't currently offer kayak fishing, you might just see some kayaks in our waters in the seasons to come.