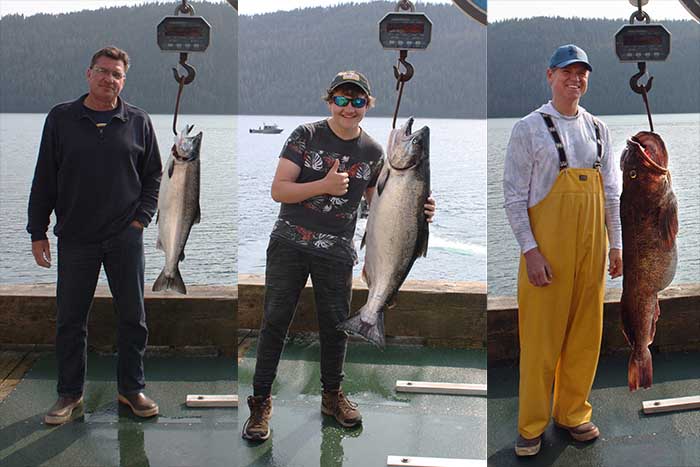 FROM THE GENERAL MANAGER
Boating the Big Ones
The 2019 season is in full swing and, as of this posting, longtime guest Fred Goll of Henderson, Nevada, has the top shot at our 2019 King of Kings Salmon Tournament title. For his sixth stay at Waterfall, Goll reeled in a hefty 46.7-pound Chinook on July 2. As the saying goes, practice makes perfect....
Or maybe not? Close behind, first-timer Jackson Risher (above, center), a 14-year-old from Huntington Beach, California, caught a 43.3-pounder on June 30. For the moment anyway, that catch has not only landed newbie Risher in second place, right behind Goll, but it also put him in the lead for First-Time Guest King of Kings and King of the Season 18 & Under.
As for Dave Wood of Waterford, California—our 2017 tournament's illustrious second place winner—he won King of the Day with a 28-pounder on July 16. And Fran Krajco (above, left) of Richland, Wisconsin, has the current silvers lead with an 11-pound coho, caught July 10.
In other contests, repeat guest Surojini Winterton of Cary, North Carolina, is topping the halibut leaderboard with the 121.8-pounder she landed today. David Ohre (above, right) of Abilene, Texas, leads the lingcod front with a 41.5-pounder caught July 10. And the unofficial title of "best sport" currently goes to James Levisee, of Denham Springs, Louisiana, who, despite not holding a tournament ticket, caught an impressive 40.8-pound king on July 1.
With a month to go in the season, it's anybody's guess as to who will bag the top prizes in the King of Kings tournament—the return trips to Waterfall, the cash prizes and gift certificates, the new Ford F-150…. We say, good luck to all the entrants. You can follow the tournament leaderboard right here in our website and check out the King of the Day winners on our Facebook page. Or sign up for Facebook Messenger so you can receive daily tournament standings and other updates delivered right to your cell phone.