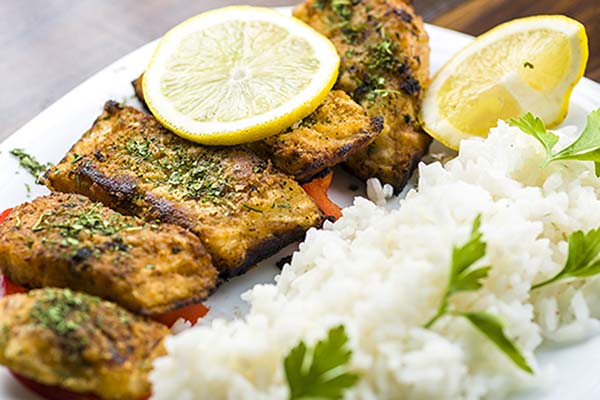 CHEF MEAGAN RECIPE
Curried Silver Salmon
If you're handy with a food processor and a cast-iron skillet, this salmon recipe with an Asian vibe is for you. It looks good on a plate, it's bursting with flavor, and it's a splashy choice for entertaining, with an exotic blend of pistachios, almonds, sesame, and aromatic spices.
To start, you toss the nuts, Madras curry powder, chives, and sesame seeds in your food processor, then spread the concoction on a baking sheet so you can dredge the fish in it. Then pop the coated fillets in your skillet and sear until a beautiful golden brown.
Ready to eat? Plate your salmon and drizzle with honey and lime juice. Sprinkle it all with chopped chives and serve on a bed of red pepper slices with parsley-studded jasmine rice and lemon wedges. The last step? Pour yourself and your guests some pale ale or Pinot Grigio. Of course, that could also be step two....