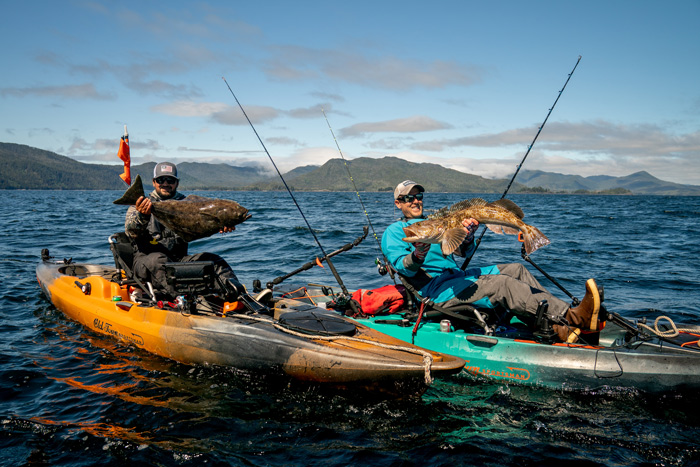 FROM THE GENERAL MANAGER
New Year, New Fishing Adventure
Our new kayak fishing program brings anglers even closer to the beauty of Alaska's ocean life and sportfishing for the 2022 season. We've simplified the whole process of kayak fishing on the Alaska ocean by including it in our full-service packaging and 1-on-1 attention for our guests. Kayak fishing just became easy to do in Alaska, but you have to act fast to participate.  We're only taking reservations until the end of January.
It started when Adam Fisk, an international kayak angler and expert based out of Los Buzos Resort in Panama, brought a team of experienced kayakers including Denes Szakacs and Robwil Valerrey from Florida to "test the waters" in July of 2021.  The result? 
"From our arrival in Ketchikan where we enjoyed the native Alaskan influence and art to the absolute awe of Alaska's beauty, then the adventure of flying out to the resort by float plane, it was a day to remember," shares Fisk.
"Getting out on the boat with our Waterfall Resort guide, Cy, added to the excitement. We learned about the types of fish, the regional regulations and tested fishing methods and gear so that we'd be able to jump into the kayaks and immediately have success. Guess what!  Over the few days, we successfully landed King Salmon, Silver Salmon, Halibut, Lingcod, true cod, massive yellow eye rockfish (released), black bass, and about 10 more species. One of the more exciting moments was landing a monster Pacific halibut that barely fit in the kayak," continues Fisk.  
An exhaustive exploration of required equipment, boat transport for the kayaks, safety and licensing requirements, in combination with expressed interest by guests, solidified our decision to commit to expertly guided kayak fishing for the 2022 season on limited dates.
Adam Fisk of Los Buzos Resort in Panama is known for his kayak fishing tournament awards and success. He has put hundreds of guests on Roosterfish, Cubera snapper, yellowfin tuna, sailfish, broomtail grouper, and so much more, all from kayaks.  He personally holds the top two largest gamefish ever caught from a kayak, both 500+ pound black marlin. 
"Jumping into a 13-foot kayak to experience one of the top fisheries in the world, Alaska, as captain, mate, and the fisherman, all-in-one, is an unbeatable experience.  You're surrounded by whales, otters, seals and countless other types of wildlife while landing the big fish of your dreams. It all takes on a whole new level of adventure," shares Fisk. 
For people ready to experience the adventure and excitement of kayak fishing in Alaska, call us before the end of January.  All spots will be closed by our deadline of February 15th. 
Head over to Kayak Fishing page to learn more about this unique opportunity and to check out our current rates. 
Let's go fishing!