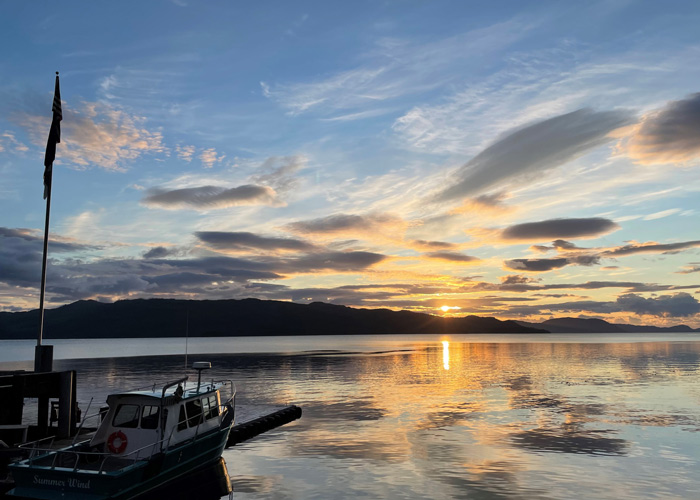 PHOTO CONTEST
And The Winner is...
It was another memorable year, and our guests shared some incredible moments of fishing, of nature and at the resort with their photography! There were 95 entries of awesome photos, and voting was active!
Although there were so many memorable and beautiful photos, only 3 entries could win.  Here are the results:
Fishing Category:
Brian Martin, a first-time visitor submitted numerous fun photos.  The wining one is of him with his big king salmon.  He received a landslide of votes for his great pose and big smile.  Congrats on both the king and the win, Brian!
"I'm bringing back my son I had such a great time!  It was life-changing for me even though I've done a lot of offshore fishing all over. This was my last king and it won KOD and King of the month!  It tasted good on the grill as well!"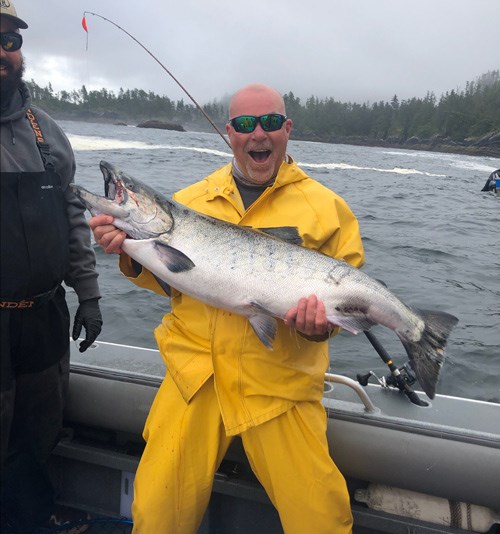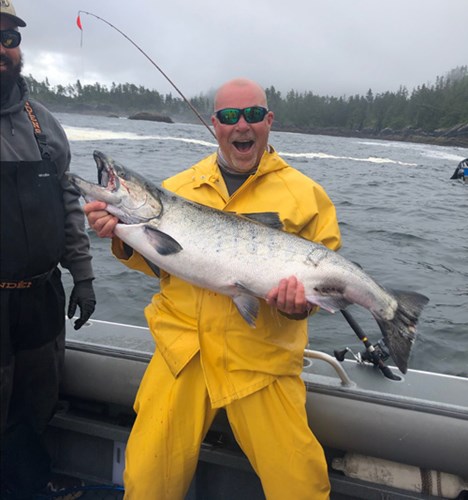 Nature and Resort Categories:
Jack Carter, a return guest for several years, captivated people with his Orca shots. Although Orca are often seen, it has become less frequent over the years, and Jack's shot of one jumping was not only exciting but fun to see!  Thanks, Jack.  Plus, he won the Resort category for his beautiful sunset view over the docks, featured above. 
"I've been coming to Waterfall Resort with work for the past 4 years, and this year I was encouraged to enter the photo contest.  So glad I did because we saw two different Orca pods this year. Usually, it's just the dorsal fins you see as they pass by.  This time, one day in the early afternoon, they started playing rough and were breaching. It was an amazing experience! I've never seen them breaching and playing like this.
The whole Waterfall experience is nature at its finest. The sunsets are the most beautiful sunsets I've ever seen in my life! We sat on the tables outside the dining hall each evening just taking them in."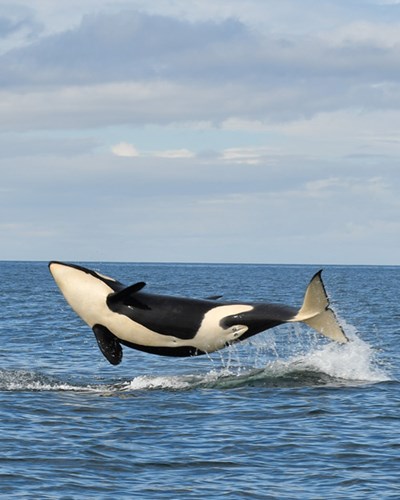 Congratulations to all! Each of these winners will receive a Waterfall Resort General Store gift certificate and the ever-important bragging rights.
There so many wonderful photos, thank you to each of you who participated. We're so lucky to have you take the time to submit photos of the fun, adventure and beauty that Alaska so generously shares with every guest.
Be sure to visit either our Facebook album or view the highlights on our Instagram profile, @waterfallresortalaska, to see all the photos!
By the way, for those 3 people who entered videos, due to technical issues, we were not able to hold voting.  Please hang in there with us because we plan to have the technical glitches worked out in time for 2022.
Let's go fishing!