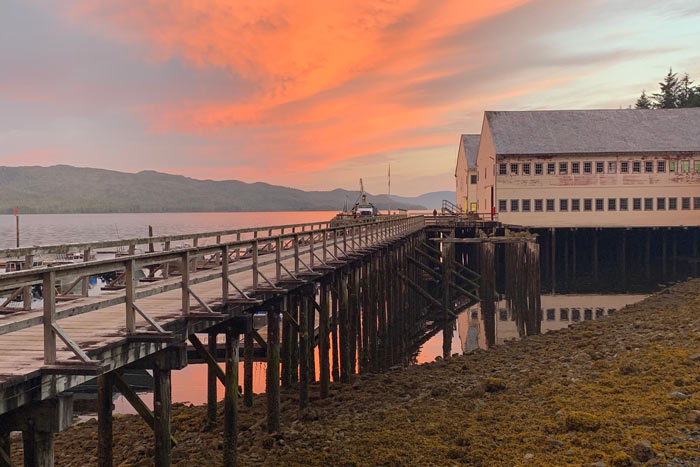 FROM THE GENERAL MANAGER
Announcing our 2020 Photo Contest Winners
2020 was a memorable year for many reasons:
We had a safely navigated, successful season despite the pandemic.
Fishing limits were back to 2 king salmon per angler.
The halibut reverse slot limit increased from under 40 to under 45 inches.
The Tongass Rainforest delivered a little extra Alaska sunshine this summer, but lucky for us the fish bite better when it gets a little wetter.
Over 100 of you sent in your awesome photos and more of you voted than ever!
Stephen Denchel, who has visited us for years with his dad, is excited to have won for his long-awaited shot of the sunrise over the resort, winning the Resort Category. (Featured at the top of the page.)
"Catching a dramatic sunrise is harder than a sunset. I've been trying for a long time. What I'd really like to share is how special it is coming to Waterfall, no matter what and no matter from where in the USA. Plus, Ron always seems to know to have his signature margaritas ready when we walk through the Lagoon Saloon doors."
First timer, Tony Kelleher, is the winner of the Nature Category for his shot of the Pirates Cove cliffs. On the epic weather and fishing, he shares:
"Don't let the rain and weather make you think you won't have a good time.
Even though the rain caused a delay the first day, we caught and went home
with more fish than we ever dreamed we would."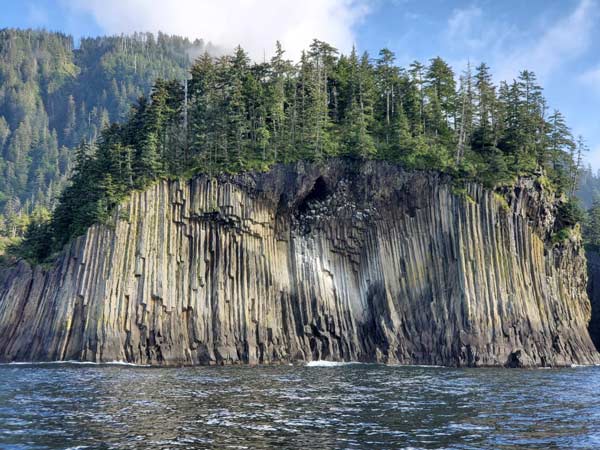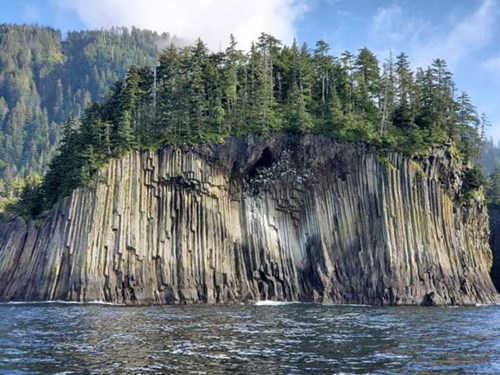 Winner of the Fishing Category, Terry Johnson has fished Alaska before but not Waterfall Resort. Lured by his good friend and long time Waterfall guest, Del Stacey, Johnson captured his first Waterfall experience in "Del and Terry – All Smiles". All smiles, indeed!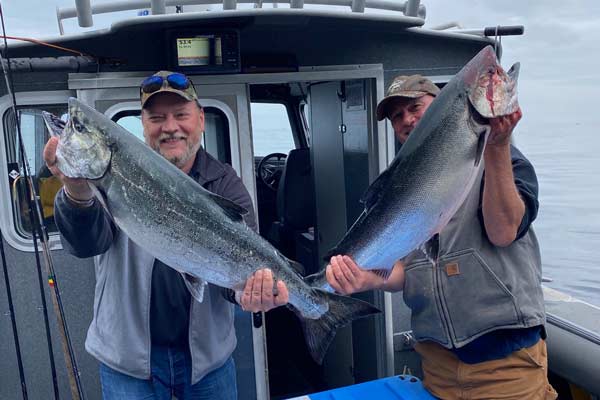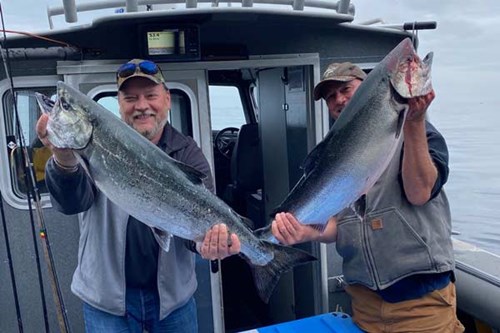 Congratulations to all! Each of our 3 winners will receive a Waterfall Resort General Store gift certificate and the ever-important bragging rights. 
There was such great turn-out for the contest and so many wonderful photos, we had to add some honorable mentions to the list: 
Nature Honorable Mention:
Whale Breach by long-time guest Anthony Petosa
Resort Honorable Mention:
Waterfall Reflections by Anthony Petosa
Fishing Honorable Mention:
Resort Boats by first time guest Chris Lingoni
Be sure to visit either Facebook or Instagram to see these photos!
Watch for new categories and changes in our upcoming 2021 Guest Photo and Video contest.  We will be announcing the updates this Spring. 
We are dedicated to making 2021 a signature year and more fun for everyone!
Let's Go Fishing!