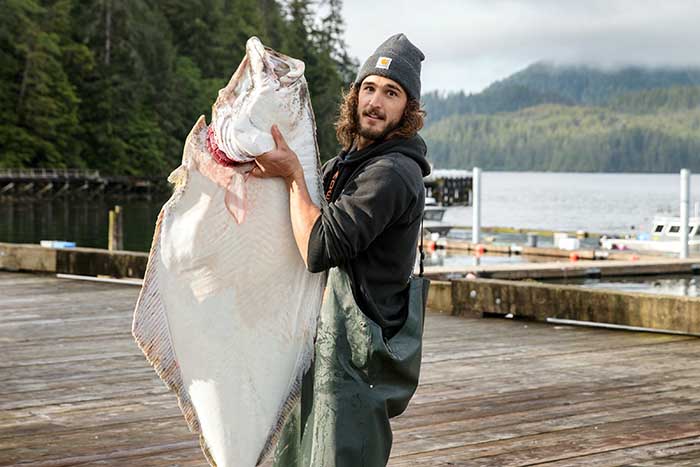 FROM THE GENERAL MANAGER
All Things Halibut
Halibut is a prized catch for many anglers who travel to Alaska for the ultimate fishing vacation. Large and flat, Southeast Alaska's halibut can weigh more than 100 pounds, with the larger adults tipping the scales at well over 300 pounds. Regardless of weight, length, or girth, a good-size halibut will challenge the skills of any angler. Pacific halibut can reach up to eight feet long, with the Waterfall Resort record at 366.8 pounds.
Best Months to Catch Halibut: Large halibut are caught throughout the summer months, from the beginning of June through the end of September.
Newly Released 2021 Halibut Regulations
In case you haven't heard the size of halibut you're allowed to keep has now increased!
The International Pacific Halibut Commission (IPHC) has just announced the lower slot limit will now be increased to 50 inches for the entire 2021 season, allowing anglers to keep one halibut under 50 inches or over 72 inches each day, U50 O72.
This is quite a significant jump as the limit would change from the current regulations of 45 inches, approximately 42-pounds, to 50 inches, approximately 60-pounds, allowing guests to keep halibut up to 20-pounds heavier! Make sure you check out our 2020 season's top halibut catches.
Bonus Halibut Tags
​​​​​Want even more halibut to bring home to your friends and family? Now you can. We're excited to announce Waterfall Resort's Bonus Halibut Tags, which can double the number of halibut you keep from your fishing trip!
Halibut fishing is strong all summer long in the channels and deeps near our shores, and a Bonus Halibut Tag can double your catch. How do the tags work? We lease surplus commercial halibut quota and make it available at cost for our guests, effectively expanding the limit you can keep. Note that supplies are limited and go fast. Bonus Halibut Tags subject to availability; 2021 tag fee to be announced.
Keep one additional halibut per tag (State of Alaska charter limit is one halibut per day).
Bonus halibut may be of any size (State of Alaska charter limit restricts halibut size)
Each guest may purchase and use up to one Bonus Halibut Tag for each day of their trip.
Bonus Halibut Tags may be shared with any other guest on the same boat.
Bonus Halibut Tags not used one day roll over to the next day and remain valid for 2021 season until used.
Of course with more than 20 other varieties of sport fish teeming in the coastal waters off the Resort's 52 acres of Alaskan wilderness, you'll have plenty to catch.  But if you like halibut, this is the perfect time to visit Waterfall Resort for the sport fishing adventure of a lifetime.
Our Crew's Favorite Halibut Recipes
Once you've reeled in your huge halibut, it's time to start thinking about how you're going to cook it.
Below are some of our staff and crew favorites:
With the best halibut limits we've seen in years, this fishing season is sure to be filled with large catches and great times. We're almost full, so make sure you get in touch with us if you'd like to experience the ultimate Alaska fishing adventure this summer!
Let's go fishing!