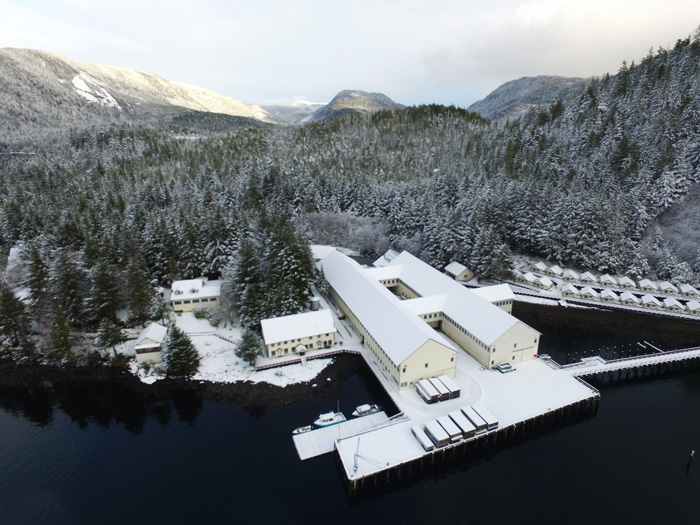 FROM THE GENERAL MANAGER
Winter at Waterfall Resort
Keeping a 100+ year old cannery, now 5-star resort, in tip-top shape is a year-round process.  Winterizing requires time and experience, something Babe and Wanda have invested with us for 15 years. 
After our guests and seasonal crew depart at summer's end, we have a small crew who stick around to help Babe. They move all outdoor equipment into the dock warehouses, close the dining hall and move cooking and meal prep for the skeletal crew into the main lodge where the general store is, deep clean all the rooms of the entire resort, winterize buildings and shut off utilities.  Even the waterpipes from the waterfall are drained.
A boom truck lifts by crane every 7,500-pound cruiser boat from the water.  After a thorough 'bath" to remove seaweed and barnacles, they are parked in a warehouse.  Finger floats for the boats are pulled as well and cleaned.  The breakwater and extra airplane docks are disconnected and taken to a warehouse for extra protection from the elements along with nearly everything at the resort — signage, linens, lamps, cutlery, barware, even wall décor. Major projects take over after that – piling caps replaced, railings repaired and more. 
Black bears like to hibernate under the buildings, and minks and martins like to break into them. It's constant vigilance for Babe and Wanda to assure break-ins are prevented.  Then, in the spring, when mama bears and cubs emerge and the deer are giving birth, it's time to get ready for the new season of guests. 
The process of winterizing is placed in reverse and everything placed in the warehouses are taken out and put in place. Any frozen water lines are repaired, and all the boats are tested and assured they are in premium running order. The docks are reassembled, and any new building projects completed. 
"There is a lot that goes into keeping this "Grand Old Lady" looking her best.  You really can't appreciate all the hard work our crews put into making sure she stays standing for the next 100 years unless you spend a winter doing winter maintenance," shares Wanda.
Ultimately, any new crew is hired and trained while the new fishing season's provisions are shipped in.  Unlike other lodges in Alaska, there's no road system to our resort, so provisioning is synced to a single, large delivery. An entire year's worth of supplies—everything but bread, produce, and dairy—comes in on a 250-foot barge, which arrives from Seattle via Ketchikan in late May to offload some 200,000 pounds of lumber, tools, fishing equipment, machine parts, paper goods, linens, laundry supplies, General Store goods, meat, cheese, ice cream, beer, wine, whiskey….
Restocking the General Store, Lagoon Saloon, and kitchen; reappointing the Dining Room and common areas; reappointing crew quarters and guest quarters all fall into place. Before you know it, it's Opening Day and another great fishing season to share with our guests.
The very remoteness of our location is in large part why it remains pristine, why the salmon (and our guests) keep returning, why the fishing here is so good, and why we—and the fish—keep thriving year after year.
We're proud of our resort and love it as much as our guests do.  It's our goal to share Alaska's beauty and wonders with as many people as possible and make their stay with us fun and memorable for years to come.  We hope you'll join us in 2022.
Let's go fishing!