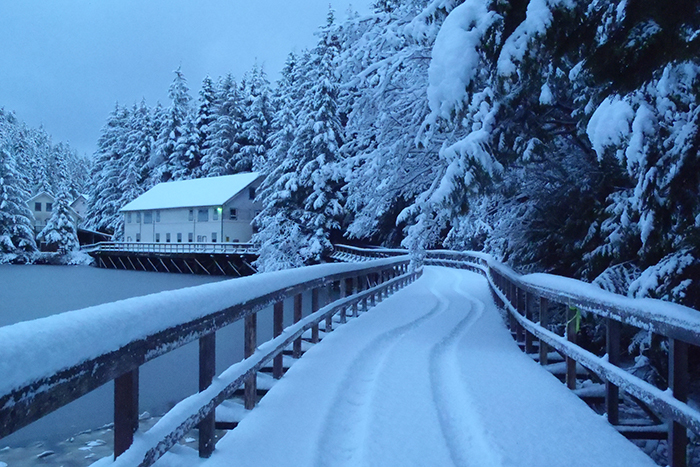 Winter at Waterfall Resort - Crew Quarters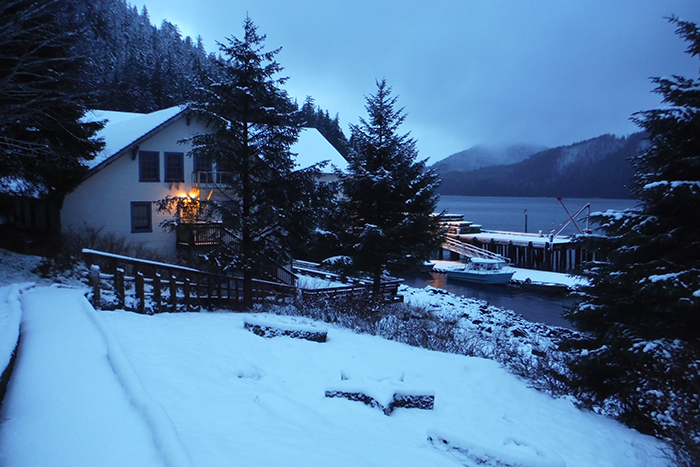 Winter at Waterfall Resort - The Lodge and Dock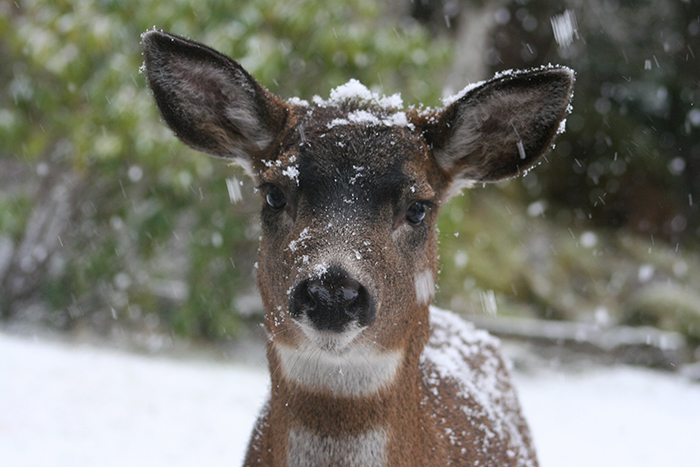 Winter at Waterfall Resort - Our year-round guests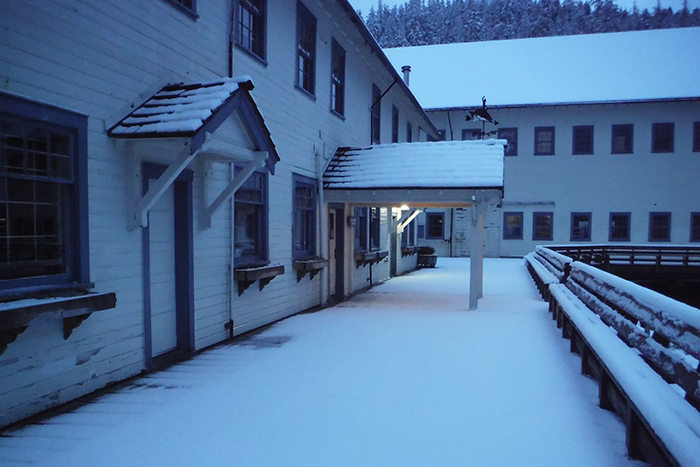 Winter at Waterfall Resort - The Lodge Rooms and General Store
FROM THE GENERAL MANAGER
Winterizing Waterfall Resort
A seasonal resort in Alaska is something like an iceberg. What you see in the three months that we're open during the fishing season is only the tip. What lies beneath? Let's just say Waterfall Resort is a year-round, multi-stage production that exemplifies life on the Last Frontier.
If fishing season here is stage one, stage two kicks in after all our guests and seasonal crew depart at summer's end. For the few hardy souls who stick it out, stage two means steam-cleaning carpets, winterizing buildings, shutting off utilities.... A boom truck cranes every 7,500-pound cruiser from the water and parks them in a warehouse. Also as protection from the elements, nearly every vestige of resort life goes into storage—docks, signage, linens, lamps, cutlery, barware, even wall décor.
Reopening, which starts in early spring, is risky business. Black bears like to hibernate under the buildings, and minks and martins like to break into them. You have to keep your eyes open, especially for mama bears with new cubs. This is stage three, the time for repairing frozen water lines, testing and fixing boats, reassembling the docks, rehiring and training crew, and provisioning.
Bear in mind that, unlike any other lodge in Alaska, there's no road system to our resort, so provisioning is synced to a single delivery. An entire year's worth of supplies—everything but bread, produce, and dairy—comes in on a 250-foot barge, which arrives from Seattle via Ketchikan in late May to offload some 200,000 pounds of lumber, tools, fishing equipment, machine parts, paper goods, linens, laundry supplies, General Store goods, meat, cheese, ice cream, beer, wine, whiskey….
With stage four comes unloading; restocking the General Store, Lagoon Saloon, and kitchen; reappointing the Dining Room and common areas; reappointing crew quarters and guest quarters. Before you know it, it's Opening Day, another fishing season, and then we do it all again.
One might see it as a vicious circle, except for the salmon fishing, which makes it all worthwhile. The very remoteness of our location is in large part why it remains pristine, why the salmon (and our guests) keep returning, why the fishing here is so good, and why we—and the fish—keep thriving year after year.