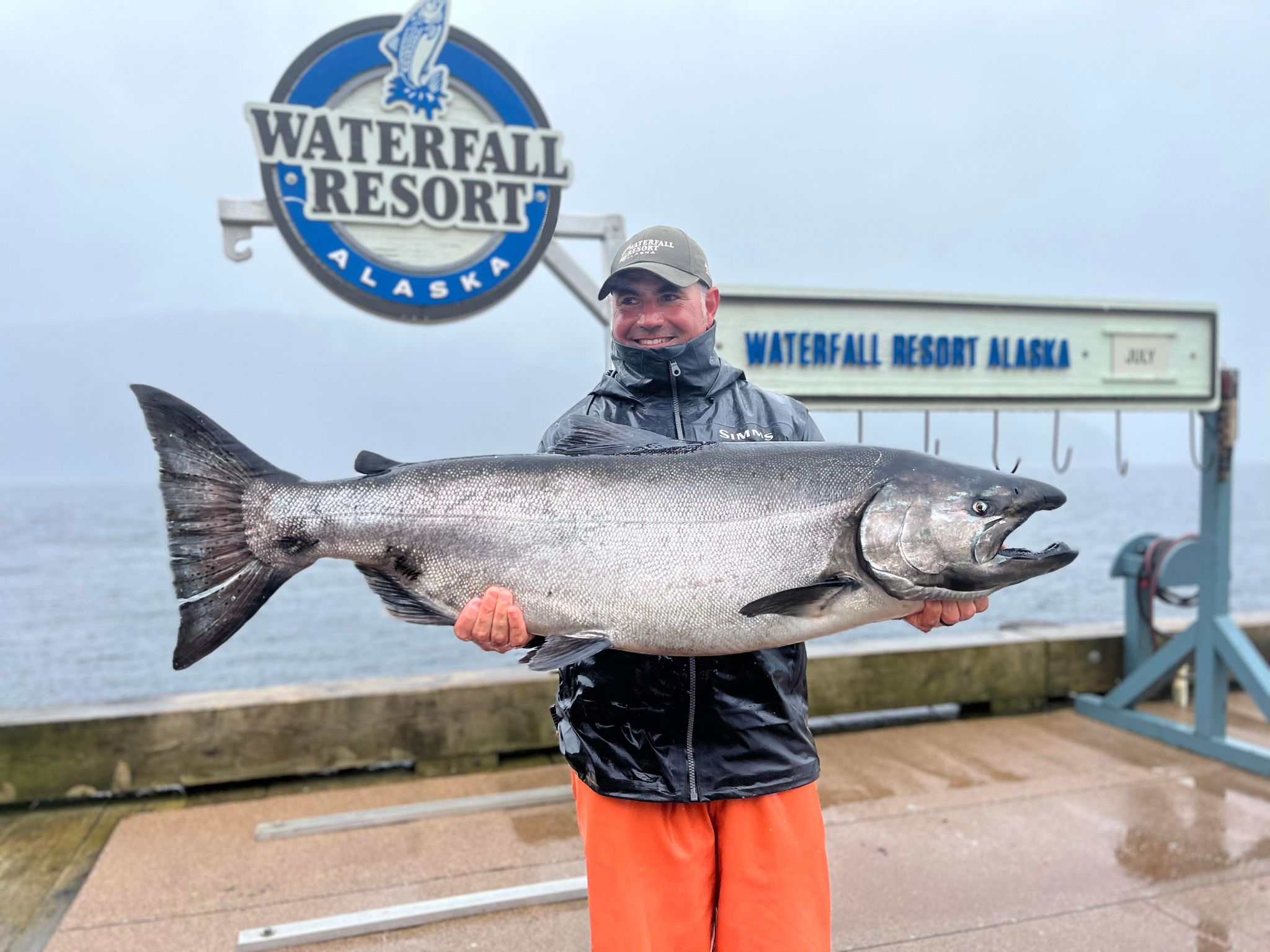 FROM THE GENERAL MANAGER
2022 Season Highlights
It seems almost unbelievable that the 2022 Alaska fishing season is over at Waterfall Resort. Overall. the women anglers kept their share of the limelight. Of the first 8 KODs, 3 were women and  2 stayed in the Top 10 (unofficially).
By mid-July, we saw five kings over 40 pounds!  Seven days into the season, a new guest, Tom Williams, caused quite a stir on the docks with his whopping 44.1 lb king salmon!  The first week of July brought in 3 more KODs over 40 pounds, and one by first-time guest, Valerie Holloway, a 40.2 lb chinook!  Then again on July 4, we celebrated another first-time guest, Lloyd Bolton, and his 44.7 lb king salmon.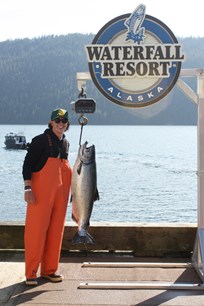 On July 2, Ara Goll, who has been coming every year with his dad since he was 10 years old and is now 19, landed a 46.2 pounder! Congratulations, Ara!  Then another long-time return-guest, Kaz Kanemura, became first place on the Leader Board with a 52.2 lb king salmon.  Wow!  Third place is now held by Nelson Wheeler with his 45.7 lb chinook.  That makes SIX king salmon over 40 lbs. Check out our unofficial Leader Board here.
Be aware, these results are all unofficial for the tournament. Confirmations will determine the overall season winners including the largest for each week and month. Plus, there are silver salmon winners, too, AND a drawing that includes all KOD winners for the Ford F-150 truck!
The stories don't stop with who brought in the largest king salmon. One of our KODs, David Stinton, landed a 32.5 lb king salmon celebrating his return to Waterfall Resort after 40 years!  Here are his "before" and "now" photo with the same hat as 40 years ago.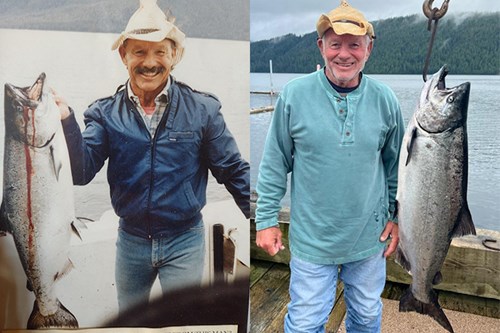 The youngest KOD winner, Harlow Lewis, came end-of season when Ketchikan resident and daughter of the GM for Cape Fox Lodge came in on the next-to-last day of fishing with a small, but proudly captured king salmon.
Of course, we've also seen some nice Pacific halibut.  Take a look at 12-year-old Robbie Valk who caught a 113.6 lb halibut!  Can you imagine pulling in one bigger than you are!  Of course, this size required a special halibut tag in order to keep it, be sure to reserve one for next summer!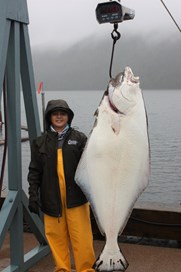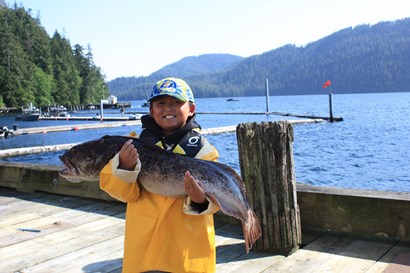 Not to be left behind, lingcod are always a hit.  They're so ugly yet such good eating!  Plus, they always bring smiles.  Just look at Keenan Sabate!  Plus, they can get very big.  Look at the 48 pound "lingzilla" new guest Vaughn Vogel landed on July 25!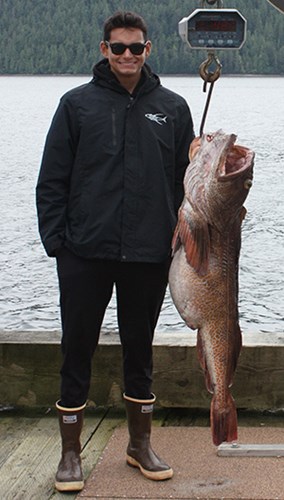 The day before, July 24, a big silver salmon was landed by David Nelson – 11.5 lbs!  That's big for a coho!  Congratulations, David!
Then, in August, although Jada Portella did not choose to enter the Tournament, she landed a 13 lb silver "coho" salmon!  That's bigger than last year's largest silver and deserves some recognition! Congratulations, Jada!
Overall, guests were leaving with the bounty of fish of all kinds, including rock fish, halibut, silver and king salmon. We're looking forward to seeing some of the memories on social media, so be sure to tag us @waterfallresortalaska so we can enjoy it, too. You may get reposted across our social media, too.
Let's go fishing!