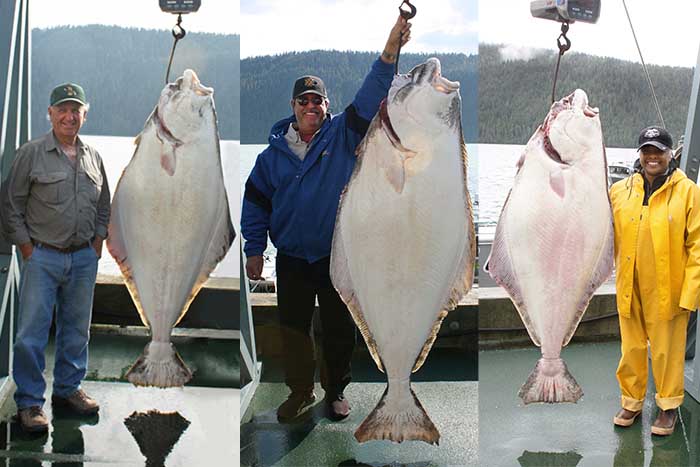 FROM THE GENERAL MANAGER
Making the Halibut Cut
Our Halibut Club patch winners covered the gamut this season, with more than three dozen patches going out to Waterfall guests who hooked a Pacific halibut of 100 pounds or more. New inductee Jack Brown, of Anchorage, Alaska, caught and released a 200-pounder on June 23, just making it into the 200-pound club. Also catch-and-release the same day, Don Fibich of Gretna, Nebraska, hooked a 180-pounder that took him to second place and a patch for the 150-plus club. In the same category and taking third was Jonathan Saltman (above, center) of Cypress, California, with his 164.4-pounder, landed July 21.
Trevor Olson, of Clove, New Mexico, came in fourth—appropriately enough on July 4th—with the catch and release of a 160-pounder. Tying for fifth were seven anglers with 150-pounders, all catch and release: Bruce Bonar, Robert Bucien, Jeff Christopher, Michael McCord, John Morgan, Tyler Price, and Luke Sherrell. And another 25 guests joined our 100-pound club with fish that ranged from 100 to 140 pounds. 
Regardless of weight, length, or girth, a good-size halibut will challenge the skills of any angler. Pacific halibut can reach up to eight feet long, with the Waterfall Resort record at 366.8 pounds. Jonathan Saltman was able to boat his catch, which measured more than 80 inches in length; per International Pacific Halibut Commission regulations, halibut in the slot between 38 and 80 inches must be released. As for our halibut clubs, they're the best kind of clubs: no meetings, no dues, and you get a patch to put on your favorite hat or jacket.
Other outstanding boated catches included the 139-pounder caught by John Lazovich (above, left) of Reno, Nevada, and the 121.8-pounder reeled in by Surojini Winterton (above, right) of Cary, North Carolina. We extend our congratulations to all. And here's a tip for your future photo op on the dock: Always stand behind your fish instead of in front of it.