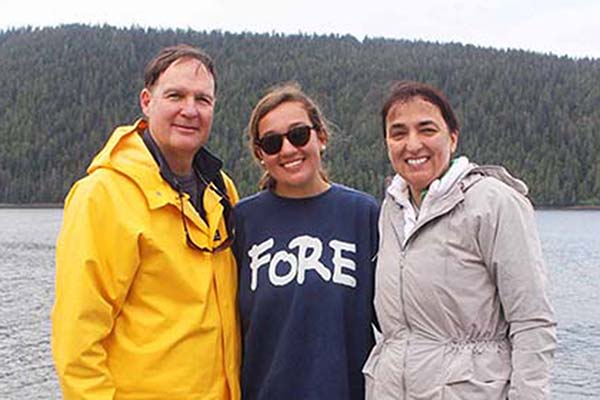 FISH STORY
Hitting the Jackpot
Ken and Sherreen Batts of Virginia Beach, Virginia, wanted a memorable graduation present for daughter, Emily (above, center, with her parents), a recent high school graduate. The couple had fished with us twice before. What better, they decided, than a celebration at Waterfall Resort?
As luck would have it, the family arrived on June 14 for their fishing trip, just in time for our annual King Salmon Jackpot Challenge, and none other than Emily—just young enough to qualify for our Kids Rate—won the drawing for a return trip to Waterfall in 2019. Now that's doubly something to celebrate! The only question? With her sights set on West Point, will the 17-year-old have time to break away to fish with us again next summer?
Incidentally, the 2019 Jackpot Challenge runs June 8 to 11. The free fishing tournament is open to all guests and includes fun prizes (hats, shirts, General Store merchandise) and the trip drawing. In addition, guests can participate in optional cash jackpots, entering at levels of $25, $50, $125, $200, or $500, totaling $900 daily. Or, if you're feeling lucky, go "all-in" at $1,800 for the entire three-day event....