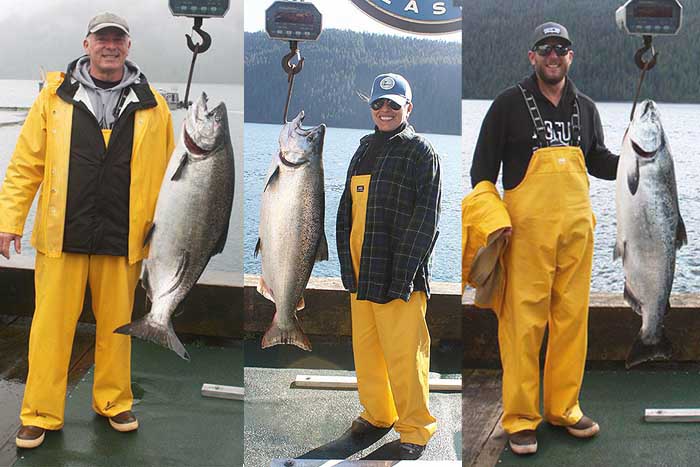 FROM THE GENERAL MANAGER
2018 King of Kings Leaderboard
At posting time, Tony Perkins of Kirkland, Washington, continues to top the King of Kings tournament leaderboard with his 48.2-pound king, caught July 16. That fish landed him King of the Day, a King of the Day ball cap, and King of the Week, with its prize of a return trip to Waterfall Resort in 2019. While Perkins (above, left) landed his prize-winning fish on his third season with us, second and third place are currently held by two first-time guests.
Andre Burchette (above, right) of Phoenix, Arizona, took the number two spot on August 3, reeling in a 47.8-pounder. And Ronda Ritchie (above, center) of Smith River, California, is in third with her 45.9 king, caught July 13. Ritchie and Burchette also took the honors for King of the Week. Other season highlights to date: the 39.5-pounder caught by 15-year-old Evan Gibson of Santa Ana, California, our King of the Day on July 20.
As always, all King of the Day winners gain entry into our Grand Prize drawing for the new F-150 truck at season's end. And with two weeks still left in the season, it's anyone's guess as to who will land the King of Kings cash prize of $10,000.
As for silvers, Michael Gates of Danville, California, scored Silver of the Month for June with a 9.3-pound fish. And Rodney Fogle of Colville, Washington, won the same title for July with a 12.4-pounder. Each won a cash prize of $2,500. Overall, a good showing in kings and silvers, and we say congratulations to all.
King of Kings Salmon Tournament tickets are $95 per person; for 2019 tickets, contact us at 800-544-5125.