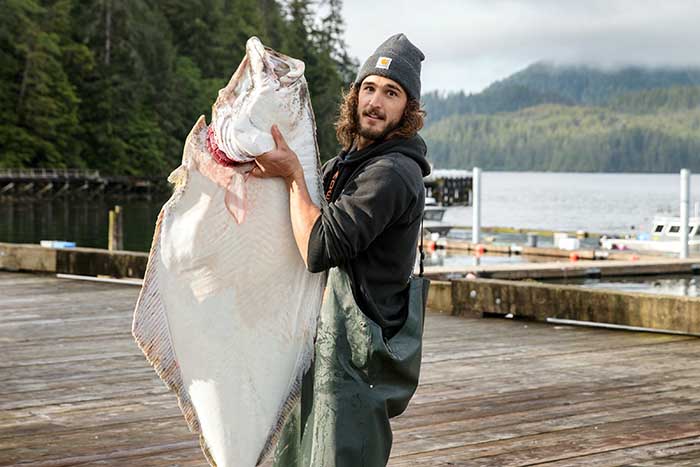 FROM THE GENERAL MANAGER
Here for the Halibut
We're pleased to announce that we have acquired more of our popular Bonus Halibut GAF Tags for the 2023 season. If you love halibut and plan on landing one of those monsters (or are fishing on a Monday*), call us now to get one for your visit with us.
If you have not booked yet for 2023, great dates are still open, and Halibut Tags are still available for new bookings. Act fast before they are all gone.
Waterfall Resort buys commercial halibut quota through the State of Alaska to be able to offer these extra benefits for guests who love halibut.  Here are the benefits:
Keep one additional halibut per tag, in addition to your daily bag limit. (State of Alaska charter limit is one halibut per day).
Bonus halibut may be of any size (State of Alaska charter limit restricts halibut size)
Each guest may purchase and use up to one Bonus Halibut Tag for each day of their trip.
Bonus Halibut Tags may be shared with any other guest on the same boat.
Bonus Halibut Tags not used one day roll over to the next day and remain valid for 2023 season until used.
Add yours to your booking now. The price for halibut tags is set by the State. If you have not already let us know you want one, call now so we can add it to your booking.
Make sure to get your tag now!
The Waterfall halibut record to beat is 366.8 pounds.  Can you imagine how much fish you'd be taking home to share with relatives and friends!  Factoring in the culinary yield after our fish processing, that's about 150 pounds of tasty filets!
The largest of the flatfish, Pacific halibut are bottom dwellers that thrive at depths to up 3,600 feet (we catch them from 100 to 300 ft on average), and can grow to more than a quarter ton and lengths nearing the height of an elephant.
Let's Go Fishing!
* For the 2023 season, in the continued efforts to preserve our halibut stocks for the future, there will be Monday halibut closures from July 24, 2023 until the end of the season. GAF (bonus halibut tags) will still work for Mondays.