FROM SALMON CANNERY TO WORLD-CLASS FISHING LODGE
The legend of Waterfall Resort Alaska started more than a century ago, when commercial fishing pioneers founded Waterfall Cannery near a natural waterfall amid 52 acres of rugged wilderness on Prince of Wales Island. They chose this location, on the island's western shore, because the surrounding waters were known for phenomenal fishing and epic salmon runs.
The cannery went on to make a major name for itself in seafood production. Salmon were caught in fish traps or aboard seiners, brine-cured, packed in handmade cans, and shipped off to New York and throughout Europe. Like most Alaska canneries of the day, this frontier outpost was a self-sufficient community of seasonal workers.
At season's end, the bulk of the crew departed and Waterfall Cannery shut down until the next summer's salmon migration. To this day, Waterfall Resort's operating days are based on the salmon fishing season—and the fishing is still phenomenal.
Timeline
1911  Alaska Fish Company, the first to pack salmon on a ship, starts a floating cannery aboard the 42-year-old clipper Glory of the Seas. The venture proves so successful that the company tows the vessel to the west coast of Prince of Wales Island, where Seattle-based Oceanic Packing Company builds a shoreside facility.
1912  Alaska Fish and Oceanic Packing merge, establishing Waterfall Cannery.
1918  Waterfall Cannery experiences a labor walkout. Four cannery line workers ask for an hourly raise, from 20 cents to 25 cents. When the superintendent refuses, the men swim across a stream to a nearby bight and camp out for two days until he concedes.
1923  Waterfall Cannery is sold to Great Atlantic & Pacific Tea Company, owner of the nationwide chain of A&P stores.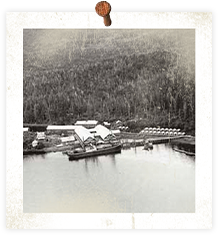 1925  Nakat Packing Corporation, a subsidiary of A&P, is formed to operate the cannery for the next half century.
1932  A major expansion begins that adds a warehouse, marine way, oil dock, dam, power lines, cable house, machine shop, storage room, mess hall, bunkhouses, four seiners, and the fish tender Quaker Maid.
A new fish house incorporates the latest standards for safe, efficient fish processing. Additions also include a store and office building with upstairs crew quarters—today, our General Store and Lodge Rooms.
1936  Waterfall Cannery produces 220,000 cases of silver salmon for the year, setting a record for a single Alaska cannery.
1937  The cannery's new $145,000 outbuildings are deemed the finest in Southeast Alaska. The company adds five additional canning lines.
C.F. Bradford, Bookkeeper, Waterfall Cannery, June 23, 1946
1939–1945  During World War II, Waterfall Cannery supplies canned salmon to support the Allied forces.
1946  Waterfall Cannery's output is 80 percent silver salmon; 20 percent, halibut and lingcod.
1959  Alaska becomes the 49th state. With Alaska statehood comes the abolishment of the floating fish trap. Canneries like Waterfall come to depend on seine-caught fish.
The Alaska Marine Highway extends through Southeast Alaska, connecting Ketchikan and the Inside Passage by ferry to the rest of the U.S. National Highway System.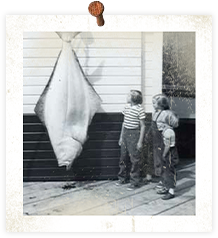 1962  Alaska adopts the king salmon as its official state fish.
1963  Waterfall Cannery begins processing salmon roe in a structure called the Egg House, later to become Waterfall Resort's premium Egg House Suites.
1969  New England Fish purchases the assets of Nakat Packing Company, including Waterfall Cannery.
1971–73  After restrictions on commercial fishing techniques, the harvest becomes too unpredictable to gear up for the summer pack and Waterfall Cannery closes its doors. New England Fish sells the cannery buildings and land to Edward "Des" Moore and family of Ketchikan, who convert the bygone operation into a remote Alaska fishing lodge.
1980  The Ketchikan-based Waterfall Group purchases the property. The historic clapboard buildings and cabins that once housed cannery crew are carefully renovated to host sport-fishing fans from around the world.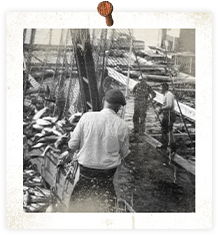 1985  The Lagoon Saloon opens at Waterfall Resort in what was once a warehouse used for net and seiner repair, carpentry, and storage.
1989  Waterfall Resort hosts the first annual King of Kings Salmon Tournament, which continues to the present day.
2004  The first annual King Salmon Jackpot Challenge is held at Waterfall Resort to celebrate June as peak season for Southeast Alaska's acclaimed king salmon fishing.
2012  Waterfall Resort Alaska marks 100 years of fishing. Former cannery superintendent Harald "Bud" Friele attends the celebration as guest of honor.
2015  Waterfall Group marks 35 years at the helm of Waterfall Resort, the most popular fishing lodge in Alaska.
Today, Waterfall Resort's time-honored facilities include the original General Store, a dining room and saloon, crew quarters, guest quarters for 92, fish-processing facilities, a marina, and 27 custom-built cabin cruisers—the largest private fishing fleet in Alaska. We're especially proud of our one-to-one crew-to-guest ratio and our expert U.S. Coast Guard licensed guides. And that pioneering spirit of the property's cannery days continues to inspires us today.
Ready to book? Contact reservations at 800-544-5125.