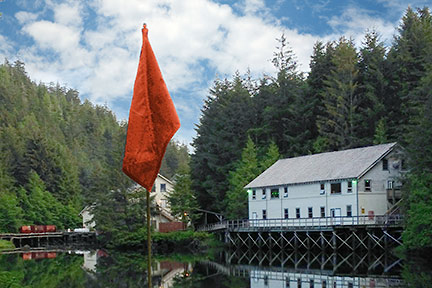 DRIVING FORCES
The Masters Touch
Thanks to golf legend Bernhard Langer, the Lagoon Saloon boasts some exciting new wall decor—a personal collection of golf memorabilia gifted to Waterfall Resort by the master himself. The framed collection includes no less than a signed 2017 masters flag, a signed club, a letter authenticating the club, signed golf balls, and a signed photo from Langer's 2004 win at the British Open.
An avid angler, Florida-based Langer has fished at Waterfall Resort several times over the years. During his 2014 visit—to the delight of our guests—the global champ gave a golf clinic on what was then our drive hole and even allowed a couple fans to use his club to drive to the green. And last year, when we remodeled that hole into our 165-yard shot over the lagoon, Langer kindly gave his input on the design of the green and the double driving stalls.
We're pleased to have Langer's support for our operation. So be sure to check out the display in the saloon—as well as trying your hand at the wildest water hazard in Alaska. It's no easy feat to pull that one off—as demonstrated by the entrants to this year's Great Alaska Tee-Off, June 15 to 18. Our "closest to the pin" winners: David Shupe of Oakley, California, scored first place at 7 feet, 11 inches; James Enders of Fullerton, California, took second at 8 feet, 6 inches; and Chris Cashbaugh of Seattle came in third at 20 feet. Enders and Cashbaugh both took home General Store gift certificates while Shupe won a return trip to Waterfall Resort for 2018. Congratulations to all.